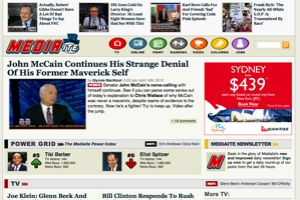 No, you are not seeing things. The Mediaite homepage now features a slightly different — and we feel, greatly improved — layout and design. It has been nine months since we launched, and in keeping in spirit with that annual rite of passage known as spring cleaning, we thought the time was right for a little bit of tidying. Join me, won't you, as we walk through some of the changes.
What will you find that's different? Well the biggest universal change is a more image-friendly home page. The stories across the the top of the pages – what we call the "Top Shelf" – are significantly bigger, and so to our those images that our in the media specific categories found below the lead story. We've also added two more stories to these sections, which has given us the room to add thumbnail images to the stories on the right hand column. We feel strongly that this will allow users to more easily access a lot more of the great content our writers publish each and every day.
The other big layout change? We no longer are differentiating between Online and Print categories in our homepage. Yes, those categories still exist – you can find all of your online and print specific stories by clicking the respective icons on the navigation bar atop the page. But we couldn't help but notice that now nearly every print story is now an online story, so we've simply doubled that space and have effectively made two closely related categories into one.
While it would be great to claim the the graphic refresh was a collaborative effort, but that wouldn't entirely be true. The redesign was led (and implemented) by Mediaite's own Scott Smitelli. For more insight into the tortured mind that informed our redesign, I encourage you to read his exegesis on the KFC Double Down™ (in which he lovingly re-brands the sandwich a "meat heap"). Yes, Scott is a triple threat: web developer, blogger AND consumer of mass-marketed artery cloggers.
Internet publishing is, among many things, an iterative process – so there will likely be some minor tweaks and changes in the coming weeks and months as well. We still dream of adding an auto-tune plug-in to all of our videos, – how great would it be to hear Chris Matthews or Greta Van Susteren sing the news? But we will now wait to work on that feature when auto-tune comes back in ironically detached vogue (yeah, it's played out.) Until then, enjoy the site and please feel free to share your thoughts on the redesign in the comments section below.
Have a tip we should know? tips@mediaite.com