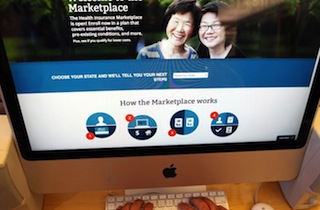 Every a.m., Mediaite publishes a primer of what the interweb machine is writing, talking, tweeting, and blogging about, so that you may fool friends and family into thinking you are a trove of information and insight. Today: updates on the fate of the Affordable Care Act, which may be headed for a one-step-forward-two-steps-back shuffle on November 30; the coming fight over birth control coverage; the man who may have ruined the Heritage Foundation; and more.

Obamacare Update: "Consumers See Progress But Insurers Smell Trouble" (Sandhya Somashekhar and Amy Goldstein, Washington Post)
With the November 30 deadline looming—looooooooming!—the government reported it is making significant progress on the front end of Healthcare.gov, with users experiencing lower wait times and fewer crashes.
Alas, the relative functionality of the front end has created an out-of-the-frying-pan problem for the exchange, as the back end is still largely a mess, with incorrect or duplicate data being sent to providers. If the website gets flooded with customers between November 30 and December 15—the latter the cutoff date for policies set to begin January 1st—it could create anarchy for insurance companies. And with a fifteen day window, the administration has no room for error.
"All (Good) Obamacare News is Local" (Carrie Budoff Brown and Reid Epstein, POLITICO)
With national press focused on the malfunctioning website, POLITICO reports that the Obama administration is trying its hand at winning local news coverage, dispatching various administration officials or Obama himself to municipalities with high rates of uninsured in states that have refused Medicaid expansion. Brown and Epstein report that the "unusually aggressive" strategy has had mixed results, but when it succeeds it gets talking points that otherwise receive little attention into the local press, where the administration feels a lot of people may be won over.
"Supreme Court Expected to Take Up Birth Control Cases" (Irin Carmon, MSNBC)
One of the biggest legal battles of the past two years is set to hit the Supreme Court this week, as SCOTUS determines which of the handful of cases concerning the religious exemption to birth control coverage, if any, it will hear. Irin Carmon has a refresher on the legal and political factors at play, as well as a particularly troubling consequence of the high court ruling in favor of religious exemptions:
If the Court does take up one of the birth control refusal cases and eventually rules that a corporation has the same religious liberty rights as a person, the longer-term impact on corporate regulations could be sweeping. That's what Solicitor General Donald Verrilli warned in his request that the Court settle the question through the Hobby Lobby case. The Religious Freedom and Restoration Act, enacted to protect minority interests, would be "transform[ed] from a shield for individuals and religious institutions into a sword used to deny employees of for-profit commercial enterprises the benefits and protections of generally applicable laws."

In other words, corporations could be allowed to opt out not only of health coverage for religiously contested services – including vaccinations or blood transfusions – but labor regulations. Some organizations have already been testing this: Duquesne University has claimed that its Catholic affiliation means it cannot allow graduate students to unionize.
* RELATED READING: "6th Circuit Eviscerates Frivolous Anti-Contraception Lawsuit" (Scott Lemieux, LGM)
Longread of the Day: "A 31-Year-Old Is Tearing Apart the Heritage Foundation" (Julia Ioffe, The New Republic)
Julia Ioffe has an in-depth profile of Michael Needham, the head of Heritage Action, the newly-devised political arm of the (once?) well-respected Heritage Foundation. Needham was a major force driving October's government shutdown, which cost the GOP dearly in the polls, and he has earned the Republican establishment's enmity in return. Meanwhile, his zero-sum tactics have taken a toll on the think tank's prestige, causing a bitter rift within the organization. "I don't think any thoughtful person is going to take the Heritage Foundation very seriously," one trustee said, "because they'll say, How is this any different from the Tea Party?"
"Florida GOP Honcho Calls on Trey Radel to Resign" (Abby Livingston, Roll Call)
Alternative headline: "Florida Man Avoids Prison."
[Image via Reuters]
——
>> Follow Evan McMurry (@evanmcmurry) on Twitter
Have a tip we should know? [email protected]