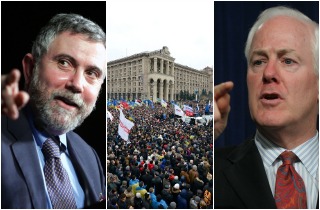 Every a.m., Mediaite publishes a primer of what the interweb machine is writing, talking, tweeting, and blogging about, so that you may fool friends and family into thinking you are a trove of information and insight. Today: amid protests, Ukraine partners with Russia; the blogosphere responds to David Brooks; the NRA endorses "liberal" John Cornyn; and more.

"NRA Endorses Sen. John Cornyn for 2014, a Blow to his Outspoken GOP Challenger" (Tom Howell, Jr., Washington Examiner)
Representative Steve Stockman (R-TX) got a dose of embarrassing coverage yesterday when photos of his condemned campaign headquarters made the internet rounds. Now he has some substantive bad news to deal with, as the National Rifle Association has endorsed "liberal" Senator John Cornyn (R-TX) in the GOP primary. That's not going to help Stockman's argument that Cornyn is a moderate in a conservative's clothing.
"Foreign Policy Round-up: Ukraine's Prime Minister Hails Deal With Russia" (Andrew Kramer and David Herszenhorn, New York Times)
The Ukranian government, which faces a rapidly approaching debt crisis, signaled strongly on Wednesday that it would accept Russian President and 2005 Super Bowl Champion Vladimir Putin's offer of $15 billion in aid—a move that defies the rampant protests of the past few weeks.
Many believe an EU alliance would yield better fiscal and economic outcomes for Ukraine the longterm, but Russia is boldly (perhaps sinisterly) offering the country a better short-term bailout—though this one is worrisome, as Putin has not spoken of what he expects in return, meaning there's a player to be named later somewhere in this deal. And as the New York Times points out, while the protests began in encouragement of signing free trade accords with Europe, they have now grown into general discontent with Ukrainian leadership, which may make the deal with Russia a Pyrrhic victory.
* Meanwhile, Russia's parliament unanimously passed an amnesty bill that includes two of the three members of Pussy riot, as well as thirty members of Greenpeace ship, which was captured by Russia last September.
* The Daily Beast's Eli Lake and Josh Rogin have a scoop about the United States paying Afghan President Hamid Karzai's Chief of Staff and other government officials in the early years of the Afghanistan war—which, depending on how you want to look at it, is either an example of the U.S. installing a technocrat in the government whose efficacious management is in our interests, or just our contribution to the corruption that plagues said government.
* In Syria, there's now something called a "barrel bomb," a cluster of nails, gas, and TNT dropped from low-flying helicopters. The Syrian army choppers have been dumping them in areas populated with women and children, like bread lines, bus stops, and schools, the latest grisly development in the Syrian civil war.
"Asking the NSA the Right Question" (Ryan Lizza, The New Yorker)
Yesterday you got the quick and dirty on Judge Richard Leon's NSA ruling, and a good point from TNY's Amy Davidson that Leon's primary insight was less constitutional than technological, in that he finally figured out that we use phones differently than we did when the court first ruled on phone records in Smith v Maryland in 1979. Now, fellow TNYer Ryan Lizza gets at how Leon is reading the NSA itself differently in light of its expanded surveillance efforts. An in-depth analysis on a potentially cataclysmic decision.
"The Facebooking of Economics" (Paul Krugman, New York Times) / "David Brooks Just Showed How Snark Changed The World For The Better" (Josh Barro, Business Insider)
New York Times columnist David Brooks published a winner yesterday, but let it never be said that this man does not drive the conversation. Fellow columnist Paul Krugman rebuts his argument by convincingly touting the blogosphere as the most active and fruitful arena for economic debate over the past decade. Meanwhile, by comparing Brooks' recent article with a similar one he wrote in 1995, Business Insider's Josh Barro shows that the snarky heel-nippers that are internet commenters are bad for the b*llshitty Thought Leaders Brooks thinks he's against. Discourse!
See also Pareene, Alex.
——
>> Follow Evan McMurry (@evanmcmurry) on Twitter
Have a tip we should know? tips@mediaite.com