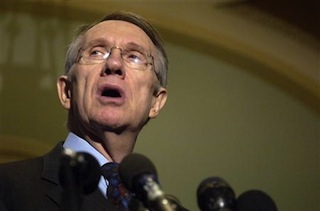 Every a.m., Mediaite publishes a primer of what the interweb machine is writing, talking, tweeting, and blogging about, so that you may fool friends and family into thinking you are a trove of information and insight. Today: the Senate's going nuclear, Democrats seek to extend unemployment benefits, why Detroit went bankrupt, and how to sell shares of yourself (but why you may not want to).

"Senate Could Go Nuclear As Soon As Today: Sources" (Ryan Grim and Jennifer Bendery, Huffington Post)
Simmering beneath the main story of the week—something about a website?—has been the war over President Barack Obama's judicial nominees, three of whom were blocked by Republican senators exploiting the sixty-vote cloture threshold. The blocks have revived talk by Senate Majority Leader Harry Reid of eliminating it—a procedure, known, in senatorial grandiloquence, as "the nuclear option." Reid had an opportunity to catapult the non-talking filibuster in January and backed off. But the GOP's intransigence on almost every bill and nominee has changed minds and votes in the Senate, and sources say Reid could go nuclear by this afternoon.
RELATED READING: "Don't Fear the End of the Filibuster For Judicial Nominees" (Scott Lemieux, LGM)
"Democrats Begin Push to Extend Unemployment Benefits" (Damien Paletta, Wall Street Journal)
As if another budget battle and judicial nominations weren't enough, Congress has an additional showdown approaching, this one over the extension of unemployment benefits. Democrats, with White House support, have introduced a $25 billion renewing the benefits past December, which some Republicans are already resisting. If the benefits expire, up to 3.2 million could lose their unemployment by April.
Obamacare Roundup:
"The IPO of You and Me: How Normal People Are Becoming Corporations" (Kevin Roose, New York)
"People are corporations, my friend." It sounded like a bad promise threat when Mitt Romney said it, and an elite novelty when Arian Foster proposed selling shares of himself. But Roose ties the concept of "human capital contracts" or "income-share arrangements" to both the Kickstarter template of crowdfunding and even to more progressive proposals, like student-loan reform in Oregon. Highly recommended.
Longread of the Day: "Detroit and Bust" (Andrew Elrod, n+1)
Andrew Elrod has a detailed, closely-reported piece that gets at both the personal fallout of Detroit's bankruptcy and the ways pensioners are taking the blame for the city's mismanagement:
The roots of Detroit's bankruptcy instead lie hidden in the rocky soil of municipal bond finance. What sank the city was an elaborate scheme to avoid pension payments, which left Detroit drastically more indebted than it otherwise would have been.
Combines the best of feature reporting with insightful policy analysis. Get it.
[Image via screengrab]
——
>> Follow Evan McMurry (@evanmcmurry) on Twitter
Have a tip we should know? [email protected]