Media's Hillary Lovefest Underway, While GOP Candidates Face Tough Questions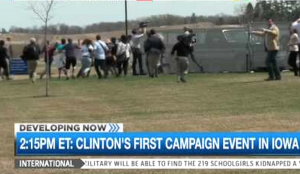 Cue the Hillary Clinton media lovefest.
All you need to know about the next 18 months of media coverage in the Hillary vs. press match-up is summed up in this hilarious video. Reporters are running, not walking, to catch Clinton in her "Scooby van" as she kicked off her campaign in Iowa.
To quote legendary MLB catcher Yogi Berra: "It's like déjà vu all over again."

After living through the 2008 coronation of then-Senator Barack Obama, we know how this play is going to end. Barring any miracles, Clinton will cruise to the nomination. And from then on, most of the coverage of her speeches, policies, and even grandma-hood will slant in her favor.
There are dissenters who point to the last few weeks as proof that the press is tough on Hillary. The Washington Post's Chris Cillizza wrote a piece Thursday headlined, "No, the Media Isn't Biased in Favor of Hillary Clinton."
"[T]o accuse the press of being in the bag for Clinton in this campaign feels totally contrary to the evidence at hand," he wrote. "Clinton seems to me to have weathered more scrutiny in the race so far — in terms of media attention being paid to her and what she might be like as president — than any Republican, with the possible exception of Jeb Bush."
Yet since she announced her candidacy five days ago, she has largely been spared from answering any actual questions so far.
On the Republican side, you might have noticed that each candidate has received his proper grilling from the media. Marco Rubio announced one day after Clinton and has already been asked tough questions on a variety of issues by CNN, Fusion, and Fox. Heck, he's even made himself available for a TMZ cameraman. Rand Paul has sat down for several television appearances, some particularly notable for their tense exchanges.
But Clinton has yet to make a major media appearance beyond a photo-op Iowa town hall with supporters.
Appearing on Fox News this week, Lynn Sweet, the Chicago Sun-Times' D.C. bureau chief, says it's "way too early to make that kind of pronouncement" that the media is in the tank for Clinton. And as for reporters running to get video of Clinton? Sweet says: "They were running to get a shot, big deal!"
Yes, Clinton controversies like the email server saga made front-page news. But they had to. How can you sweep something as secretive as using a personal account for State Department business under the rug? Even if you are going to bat for Hillary, that one crossed a line no one could ignore. Controversial foreign donations to the Clinton Foundation, while oft-covered, barely made a ripple.
But it's more likely that the analyses of her political opposites — namely Charles Krauthammer and Bernie Goldberg — are closer to the truth.
In an op-ed for today's Washington Post, Krauthammer writes: "She doesn't just get media coverage. She gets meta-coverage. The staging is so obvious that actual events disappear. The story is their symbolism – campaign as semiotics."
On the O'Reilly Factor last night, former CBS reporter Goldberg said the press "slobbers" over Clinton. That may be going too far. Fawns is more like it.
The point is: Even if you buy the premise that she's had fair coverage up until now, just wait. As it comes closer to the primary, media lemmings will push the Democratic candidate with the best chance of winning. And in the general election, many reporters will be tougher on the Republican nominee than on the presumptive competitor, HRC herself.
While elections are never a fait accompli, the media's role in the making of a president is already set in stone.
— —
>> Lauren Ashburn is an award-winning, Washington-based journalist and TV analyst covering media and politics. Follow her on Twitter here.
Have a tip we should know? tips@mediaite.com