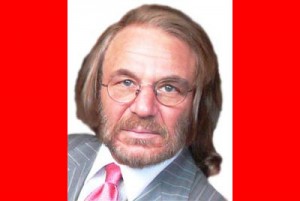 Republican presidential candidate Donald Trump has been promising a full report on his health for some time. Well, said report finally arrived on Monday and it didn't disappoint. Not one bit.
Why? Because, like Trump, the health report was as boisterous and bloated as the New York real estate mogul's campaign for the White House has been. Plus, the world finally got to meet his personal physician — a gastroenterological specialist by the name of Dr. Harold N. Bornstein.
There's a lot to unpack here, so let's look at Trump's announcement first. He writes on Facebook that he is "proud to share this report," which he claims was "written by the highly respected Dr. Jacob Bornstein of Lenox Hill Hospital." This is already false, because the opening lines of the report contradict the name of Trump's doctor.
Statement from Trump's doctor on his health: pic.twitter.com/bVwR0d8psn

— Gabby Morrongiello (@gabriellahope_) December 14, 2015
Dr. Jacob Bornstein was Trump's personal physician until his son Harold took over in 1980. So either Trump is being nostalgic with his announcement, or he just doesn't care enough to remember the name of his doctor.
This leads us to the statement itself, which has… problems. Like a weirdly-worded salutation ("To Whom My Concern") and many other noticeable grammatical (and personality) issues.
Doctor who wrote Donald Trump's health report addresses it "To Whom My Concern," etc. https://t.co/eb1GGRSYKW pic.twitter.com/VWQoRt6jOD

— Dave Itzkoff (@ditzkoff) December 14, 2015
I am perhaps most concerned that Donald Trump's doctor uses two spaces after a period. pic.twitter.com/55Uit9lexy

— Iris Blasi (@IrisBlasi) December 14, 2015
Can someone please make sure Trump's doctor isn't Trump in Groucho Marx disguise? https://t.co/bILfAqE3Gl pic.twitter.com/w7D4LcZlzs

— Chris Geidner (@chrisgeidner) December 14, 2015
Buried lead: Donald Trump's doctor has examined every president since Washington. pic.twitter.com/QmpZD9GZY0

— Alex Seitz-Wald (@aseitzwald) December 14, 2015
It almost seems like Donald Trump's doctor is … Donald Trump. https://t.co/LhaBR30ZLJ

— Dan Diamond (@ddiamond) December 14, 2015
Real picture of Trump's doctor pic.twitter.com/9kQTNed1RB

— Pete Blackburn (@PeteBlackburn) December 14, 2015
Last but not least, there's Harold Bornstein himself. He's probably a wonderful doctor, and no doubt deserving of Trump's wealthy patronage. Yet the Internet (i.e. Twitter) just cannot help itself when confronted with a face (and haircut) like his.
This is Trump's doctor. For serious. https://t.co/1OCR7rF5EE pic.twitter.com/LQkgFOCOOM

— Neil Irwin (@Neil_Irwin) December 14, 2015
You know it's really Donald Trump's doctor because they share the same hairstylist. pic.twitter.com/09NV3VQ1m3

— Alex Koppelman (@AlexKoppelman) December 14, 2015
"Donald Trump's doctor" is James Lipton's greatest acting triumph. pic.twitter.com/mFSEA1lUVn

— Adam Smith (@asmith83) December 14, 2015
"As Mr. Trump's longtime doctor, I can further unequivocally state that I look Ron Rifkin with 'The Rachel.'" https://t.co/WZZ4EAo1qR

— David Roth (@david_j_roth) December 14, 2015
Here is the highly respected Harold Boorstein, M.D. Very classy, terrific doctor. pic.twitter.com/P4lzV89hCe

— Blake Hounshell (@blakehounshell) December 14, 2015
Some kind of weird parody Twitter account using Bornstein's name has existed since 2013. There's not much to it… except for an even more amazing picture.
This man performed a physical on Donald J. Trump pic.twitter.com/mAwQko4Wul

— Gideon Resnick (@GideonResnick) December 14, 2015
trump's doctor harold bornstein hasn't used his twitter much but what a pic https://t.co/aqveezW0ZQ pic.twitter.com/AA5hPNgbjN

— Oliver Willis (@owillis) December 14, 2015
I knew trump's doctor looked familiar pic.twitter.com/wOtp6aYC0Z

— Patrick W. Gavin (@pwgavin) December 14, 2015
[Image via screengrab]
— —
>> Follow Andrew Husband (@AndrewHusband) on Twitter
Have a tip we should know? [email protected]