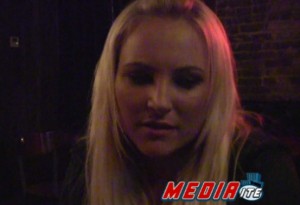 Daily Beast columnist and America, You Sexy Bitch: A Love Letter to Freedom co-author Meghan McCain became the center of an internet firestormlet last month when she remarked that she didn't understand the appeal of people like Michelle Malkin and Andrew Breitbart, "who exacerbate people's fears."
While the brouhaha was extensively covered here at Mediaite, I took the occasion of her book party to ask for her response to the Breitbart.com charge that she was insufficiently grateful to the late Andrew Breitbart.
Andrew Breitbart was a towering figure in the conservative media, and his sudden, tragic death in March was painful for a great many people, including some of his fiercest adversaries. When Meghan made her remarks on Al Sharpton's PoliticsNation, a certain level of raw feeling was warranted, but her comments were blown way out of proportion, and the reaction from many on the right was hideous.
I don't believe that what Meghan said was particularly out of bounds, but it's a fair point that it would have been kinder for her to volunteer a different name in that situation, especially to the folks who knew and loved Andrew best. One such person, John Nolte, took additional offense at what he called "The Unbearable Gratitude Of Meghan McCain," because Andrew had given her an early opportunity to participate in an Academy Awards live blog for his site, and because "while many other conservatives hit back at Ms. McCain for her regular undermining insults directed towards the Tea Party, Sarah Palin, and conservatives in general — the Bigs pretty much left her alone. It was important to Andrew that we keep, as he put it, the waters warm for all right-of-center types."
During our interview at her book party, I asked Meghan to respond to that criticism. While she described their limited personal interactions positively, Meghan rejected the idea that she should feel any sense of indebtedness to Andrew Breitbart. "I'm indebted to Tina Brown, who made my career, and I have the utmost respect for," she said.
I'm sorry if I offended anyone by speaking of a deceased man, maybe if there's anything I regret about that, maybe I should not have spoken about him so soon, but he was a person tweeting, I think, hours after Senator Kennedy died, who was also a friend of my family's and mine, and someone I knew growing up as a child."
She added that Andrew's death caused her to rethink her own lifestyle. "It scared me when he died," she said, "health-wise, as I'm sure you know, what we all do, we blog all the time, we're up all night, we're on deadlines, it's an issue where you're not thinking about your health. I actually started working out after he died because I was so scared by it."
"So, maybe Andrew Breitbart saves your life," I said.
"I wouldn't say that," Meg replied, "but I do want to clarify that I have respect for what he did. We had disagreements, but, obviously, may he rest in peace."
Here's the full video of that portion of the interview:
Follow Tommy Christopher (@TommyXtopher) on Twitter.
Have a tip we should know? tips@mediaite.com