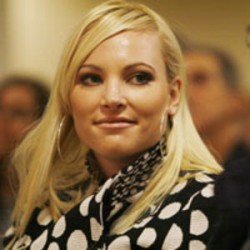 The New York Times has fallen for Meghan McCain. The Style Section may not be the all-powerful arbiter of importance it used to be, but it's hard not to read their lengthy and glowing feature on @McCainBlogette as some sort of 'here is the future of politics' official coming out party.
As you likely know Meghan McCain has just published Dirty Sexy Politics, her memoir of the 2008 election campaign, to pretty warm reviews and has been making the media rounds all week. In the article the NYT tackles some of McCain's more tangled relationships with women during and after the campaign specifically Laura Ingraham (who famously dismissed her as "plus-sized" ), Sarah Palin (whom she calls a "the most beautiful politician I had ever seen" and a "ticking time bomb"), and First Lady Laura Bush.
She still resents Ms. Ingraham's remark but added, "I should send her a fruit basket. It's one of the best things that's ever happened to my career. I don't care if she disagrees with me."

In "Dirty Sexy Politics," Ms. McCain brings similar bluntness to her recollection of a day when she was snubbed by another prominent woman — Laura Bush.

It was in March 2008, two days after Mr. McCain had won four presidential primaries, clinching the Republican nomination. Mrs. Bush had invited Meghan and her mother to the White House for lunch.

Meghan dressed to the hilt, in an elegant black Diane von Furstenberg dress, a capelet and Tory Burch peep-toe heels, her hair swept up in plaits.

During the 2008 presidential campaign, Ms. McCain had struggled to appear decorous, knowing that as a candidate's daughter, her "entire job" was "standing, waving and wearing the right clothes, like a princess doll."
[…]
But when Mrs. Bush, in a sweater and slacks, greeted her and her mother, she told them there'd been a misunderstanding. The invitation only applied to Mrs. McCain. Meghan was sent to the White House mess. "I was given a doggie bag of enchiladas," Ms. McCain writes.
Related: Daughter of John McCain Is a Rebel [NYT]
Have a tip we should know? tips@mediaite.com