Megyn Kelly Tears Up When Explaining Why She Came Forward About Sexual Harassment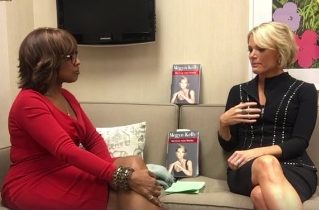 In a Friday interview with CBSN, Fox News host Megyn Kelly became emotional when she explained how she finally came forward about being sexually harrassed by her boss Roger Ailes after looking at pictures of her daughter.
Kelly said that she had stayed silent about Ailes' harassment because she believed it was an isolated incident from a man seeking an affair. But when she heard that Ailes was seeking to limit Fox's sexual harassment investigation to only those who had worked under Gretchen Carlson, she knew he was hiding something.
"I knew what that would mean," she said. "There would be no talent… that would mean no me, and the women who went into his office were generally talent. That's when I had a choice to make."
Watch below, beginning @35:00.
"I wrestled with it," Kelly admitted. "I too was loyal to Roger. I had gone on to have a great relationship with him. And he had my back in a lot of tough circumstances."
But Kelly spoke emotionally about the moment she made her decision. "I sat on my porch swing in New Jersey, looking through my phone at my pictures of my kids, and there's a picture of [my daughter Yardley]… and I thought to myself, 'This will not happen to one more woman at Fox News,'" she said.
"And I…" she began, before choking up. "I didn't want Yadley to have to make the same choices I did. So I picked up the phone and called Lachlan Murdoch, and I told him to get his general counsel on the phone because I had something to tell him."
[Image via screengrab]
—
>>Follow Alex Griswold (@HashtagGriswold) on Twitter
Have a tip we should know? tips@mediaite.com