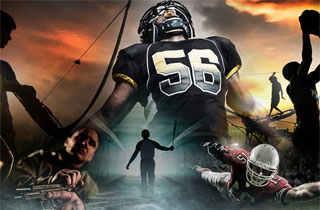 Have you ever looked at Yahoo's front page and thought to yourself, "Wow, I feel so emasculated by simply viewing this content"? Does Yahoo!'s editorial curation make it feel like someone is ripping your testicles off, with talons made of George Clooney wedding news and "What is the Khorasan Group" videos? Fear not, for Scout is here to be, as its founders actually told AdWeek, "Yahoo for Men."
"When I was at Yahoo, I discovered that the big-scale male demographic sites, for the most part, were not befitting of major premium brands because men tend to gravitate to the lowest common denominator when it comes to concepts," Scout CEO James Heckman, the former head of global media strategy at Yahoo, told AdWeek. (We'll leave it to you to decide what "lowest common denominator" means in terms of marketingspeak.)
Hence, the need for Scout.com, a manly-man site with "high-quality premium safe content for brands to associate with." Apparently, there aren't a lot of those kinds of websites — at least, in the fields Heckman wants to play in:
We're not pursuing A-market Silicon Valley, New York hipster types, but rather men where America is. We have a hyper-focus on college football, college basketball, NFL, hunting— nobody will do hunting—we're doing hunting, fishing, military, Nascar, golf. Think about it. The NFL doesn't even exist in Los Angeles. College sports don't exist in New York, but it exists throughout the Midwest, the Steel Belt and the South. So, we're focusing on where most of the American men are and addressing their passions.
While this is probably an insightful business move — Heckman points out that people in media hubs like Los Angeles and New York probably know very little about "Alabama football, the Giants, [and] fishing" — Scout is pretty obviously still in its baby stage. Here's the actual image from the site's About Us page: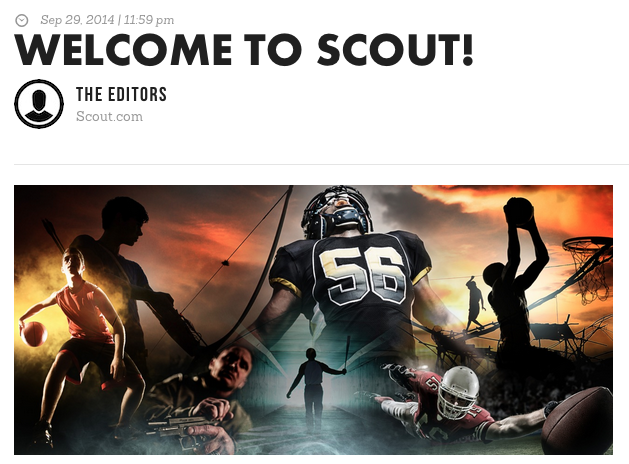 Yeah, we get it, you're a site for men.
[AdWeek]
[Image via Shutterstock]
— —
>> Follow Tina Nguyen (@Tina_Nguyen) on Twitter
Have a tip we should know? tips@mediaite.com