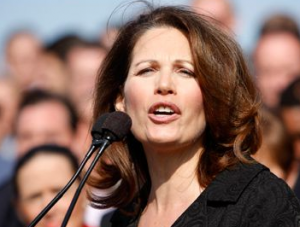 In a report this morning by the Miami Herald's Marc Caputo, Republican presidential candidate Michele Bachmann is portrayed as "a magnet of controversy…(with) a trail of police reports to prove it." The story details police reports filed over the years by Bachmann and her staff, involving eggs thrown at her family home, protesters who threw glitter on her, emailed threats, and at least one incident where Bachmann reported being held against her will in a public restroom.
As Caputo puts it, "the series of police reports from the Stillwater Police Department and the Washington County Sheriff's Office in Minnesota show a side of a candidate rarely seen on the campaign trail, where Bachmann has described herself as having a 'titanium spine.'"
The report includes harsh comments from critics, who suggest the police reports indicate a level of hypocrisy from the tough-talking Republican:
"She seems paranoid," said Brad Trandem, a Lakeland, Minn. resident who excoriated Bachmann in an email this year, only to face investigators. "She does all this criticism of other people's lives and talks about how people should be 'armed and dangerous.' But then someone says something critical about her and she calls the police."

In Trandem's case, Bachmann's staff who forwarded his correspondence to U.S. Capitol Police with the headline "Email Threat to Rep. Bachmann."

At issue, this last sentence of the 128-word email referring to Dr. Marcus Bachmann: "I would also keep a little closer tabs on the dear hubby if I were you."
None of the incidents described in the Herald story resulted in arrests.
Have a tip we should know? tips@mediaite.com