Hastings Tells Colbert: 'Obama Used Rolling Stone Article As Excuse To Get Rid Of McChrystal'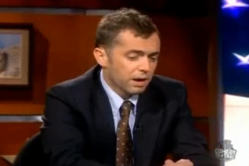 Rolling Stone journalist Michael Hastings has returned stateside to continue his media rounds following his bombshell article on General McChrystal that resulted in McChrystal's firing last week. Hastings told Stephen Colbert last night that he thought the White House had used "this opportunity to get rid of someone they weren't happy with."
I didn't fire McChrystal. The White House fired McChrystal. I believe they used this opportunity to get rid of someone they weren't happy with.
If so, it's an angle on the story that I've not heard reported before. In fact, the general sense is that the White House was as blind-sided by the McChrystal story as everyone else, and since the administration has essentially only changed leaders not their course in Afghanistan one wonders what they're motivation would be to switch horses in mid-race.
That said, Hasting remarks did bring to mind a Media Decoder piece David Carr posted the other day in which he wondered if the media echo chamber was more to blame for McChrystal's firing than anything that was said in the piece.
But those who've read the full piece by Michael Hastings — as opposed to just the juicy bits being tossed around cable news — might be forgiven for wondering what exactly got him whacked so quickly. Or at least, you might wonder if it has less to do with what the general said and more to do with the relentless velocity and recklessness of the modern media ecosystem.
[…]
To succeed in the eyes of the current president, it is far more important to fit in than stick out, and General McChrystal's decision — abetted by a now departed civilian press aide — to allow a reporter to embed and watch his team's every move left him open to charges of grandstanding. From there, it was a quick pivot to insubordination and the media seemed content to play along.
Watch the Colbert segment below.
Have a tip we should know? tips@mediaite.com