Michael Moore Goes The Full Wingnut On President Obama Over Occupy 'Crackdown'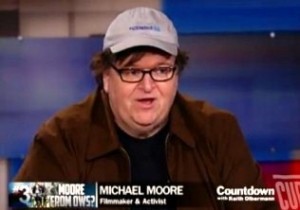 This week began with a series of raids on Occupy movement encampments across the country, and an admission by Oakland Mayor Jean Quan that 18 municipalities had participated in conference calls on how to deal with the camps. Filmmaker Michael Moore, a vocal and visible supporter of the Occupy Wall Street movement, responded by accusing President Obama, via Twitter, of giving the "green light" for the raids. It's just the latest in a series of unhinged attacks, on the President, by Moore. What gives?
Quan's remarks to the BBC have led to angst over a possible "coordinated effort" among the cities that raided Occupy encampments at the beginning of the week, but some have taken things a step further, and speculated that the Department of Homeland Security and the FBI participated in/directed the effort. Michael Moore went even deeper into the rabbit hole early Tuesday morning, tweeting his followers, "Dozens of Occupys across US raided this weekend-& now NYC- Planned & coordinated by the Dept. of Homeland Security? Did O give green light?"
RELATED: Did Oakland Mayor Jean Quan Admit Cities Coordinated To Bust Occupy Protests?
At the time Moore made the accusation, there was absolutely no evidence to support it. Hours later, he tweeted a link to a report that cited an unnamed "Justice official" saying that "while local police agencies had received tactical and planning advice from national agencies, the ultimate decision on how each jurisdiction handles the Occupy protests ultimately rests with local law enforcement."
That's some thin gruel to accuse the President, or anyone at the federal level, of "greenlighting" a crackdown, but it gets thinner. Some liberal blogs have attacked the credibility of the report based on the thin sourcing, and the fact that it comes from Examiner.com, a citizen journalism endeavor owned by conservative Phil Anschutz.
On its face, though, the report is of dubious credibility. The vague, weird attribution ("one Justice official…who spoke on background to me late Monday evening") bear the fingerprints of an inexperienced leaker and leakee. I'm not saying the reporter made it up (I'm positive he didn't, and he's obviously working hard on the story), but the attribution telegraphs a low-level, no-authority source.
Moore then proceeded to urge his Twitter followers to spam President Obama ("Dear @BarackObama We luv ya but pls detail any #ows discussions btwn cities& HomelandSecurity&FBI// RT til he answers http://j.mp/ssseb9"), and Mayors Bloomberg and Quan, to explain this non-existent connection. To be clear, I'm all for holding those in authority accountable, but not for things that are made-up. Even if you buy the Examiner's source, he's not even alleging federal coordination.
Moore didn't stop at a couple of tweets, though. He appeared on Tuesday night's Countdown with Keith Olbermann to continue his completely groundless attack. Moore told Olbermann, "this is not some coincidence. This was planned. And I think that the question really has to be asked of the federal government, and of the Obama administration — why?"
"Why? Why are you participating in this," Moore continued,  "against a non-violent, mass movement of people who are upset at what Wall Street and the banks have done to their lives?"
Olbermann then added his own wheel-within-wheels, saying, "Conveniently, the President can't be asked that question, because he was en route to Australia."
The whole thing is so tin-foil ridiculous, I think Olbermann might've picked up Reynolds Wrap™ as a sponsor. Moore even cited the similarity of police tactics in the various cities as evidence of the conspiracy, as if police normally display such Kama Sutra-like diversity in dealing with protesters.
What's truly mystifying, though, is Michael Moore's desperation to attack President Obama. There are many liberals who are critical of the President (myself included), but it's rare that a liberal outpaces the most rabid of right-wing fabricators to do so.
NEXT: Moore's Attack Part Of A Pattern
Have a tip we should know? tips@mediaite.com