UC Davis Police Pepper Spray Student Occupy Protestors, University Investigating Incident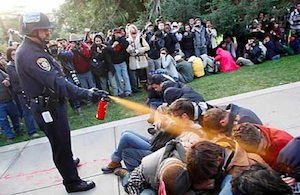 An international furor has erupted over an incident involving UC Davis Police Officer Lt. John Pike pepper spraying students participating in a non-violent act of civil disobedience Friday afternoon at an Occupy protest on the UC Davis campus.
RELATED: 84 Year Old Woman Pepper Sprayed At Occupy Seattle Protest, Instantly Becomes Icon Of Movement
Pike walked up to seated protesters and fired the pepper spray at close range while bystanders chanted, "Shame on You." UC Davis law enforcement dragged the stunned demonstrators away, at least one was hospitalized for chemical burns from the spray.
UC Davis Chancellor Linda Katehi announced a taskforce to investigate the incident:
The use of pepper spray as shown on the video is chilling to us all and raises many questions about how best to handle situations like this.

To this effect, I am forming a task force made of faculty, students and staff to review the events and provide to me a thorough report within 90 days. As part of this, a process will be designed that allows members of the community to express their views on this matter. This report will help inform our policies and processes within the university administration and the Police Department to help us avoid similar outcomes in the future. While the university is trying to ensure the safety and health of all members of our community, we must ensure our strategies to gain compliance are fair and reasonable and do not lead to mistreatment.

[…]

Through this letter, I express my sadness for the events of past Friday and my commitment to redouble our efforts to improve our campus and the environment for our students.
Watch the chaos unfold at UC Davis below:

(h/t BoingBoing, Photo courtesy of Wayne Tilcock, photo editor of the Davis Enterprise newspaper)
Have a tip we should know? tips@mediaite.com