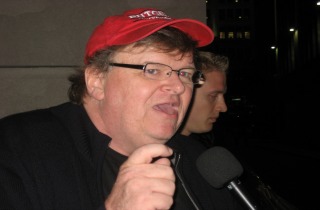 Filmmaker Michael Moore took to Twitter early Thursday morning to slam conservatives for what he believes is their role in exacerbating the Ebola outbreak. In a series of tweets, Moore took to blaming everyone from the NRA to Texas Gov. Rick Perry, congressional Republicans, to Wall Street bankers.
Many have used Ebola to advance their respective political agendas, and Democrats have latched onto a claim by the head of the National Institute of Health that budget cuts to medical research have prevented the NIH from developing a vaccine for the deadly virus. On the other side, several have suggested the president is responsible for the outbreak.
Moore started his Twitter rant by criticizing Texas's healthcare resources — or, lack thereof — and then further slamming the state for not teaching evolution in its textbooks and removing Thomas Jefferson from history curricula:
Let's break it down. "TEXAS HEALTH RESOURCES" Resources? None. Health? Ha! Texas? Well, that pretty much explains the lack of the 1st two.

— Michael Moore (@MMFlint) October 16, 2014
Texas. The state that questions evolution in its HS textbooks. The state that wants 2 remove Jefferson from a part of its history textbooks.

— Michael Moore (@MMFlint) October 16, 2014
Moore then joked that he was definitely (not) reassured when Gov. Perry asserted his control over the situation:
Personally, I haven't been worried about ebola ever since TX Gov Rick Perry stood in front of the microphones reassuring us he was in charge

— Michael Moore (@MMFlint) October 16, 2014
The United States does not currently have a permanent Surgeon General, and Moore blamed the NRA and Republicans in Congress for that.
Did u know we don't have a perm Surgeon General during this crisis? Obama nom Dr Vivek Murthy 1yr ago but the NRA & Repubs have blocked him.

— Michael Moore (@MMFlint) October 16, 2014
After the economic recession of 2008, he said, health agencies' budgets were cut but those who caused the crisis weren't sent to jail. These budget cuts, he says, have "kill[ed] lives."
Infectious diseases budget, facilities, prep cut after Wall St thievery killed economy. Now it helps kill lives. Still not 1 banker jailed.

— Michael Moore (@MMFlint) October 16, 2014
So basically, it's all the GOP's fault. Ah, politics.
[Image via Shutterstock.com]
— —
>>Follow Andrew Desiderio (@forza_desiderio) on Twitter
[Note: Mediaite intern Andrew Desiderio is a student at The George Washington University.]
Have a tip we should know? tips@mediaite.com