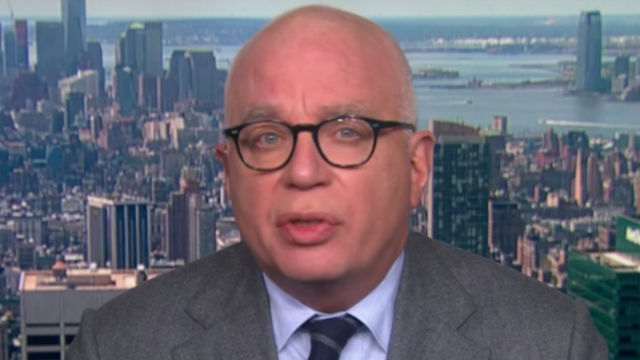 In a new interview, Fire and Fury author Michael Wolff talks about President Trump's reaction to his explosive book and what he learned during his reporting.
Wolff tells The Hollywood Reporter the past few days have been very "surreal," and when asked if he's heard anything from White House sources, he said, "I hear that the president is very angry, or, let me be precise: I hear that he is truly bouncing off the walls."
The President adamantly denied today he spoke to Wolff, but once again the author said yes, he did:
Certainly he was very open with me, accessible with me, and then he started to talk. Did he ever listen to me for one second? I never got that feeling. He just talks at you. "Blah blah blah blah blah blah. I'm great. I'm great. I'm great. I'm great." And then he sort of says, "And you're great, too. And I'm really great." It's like that. Any conversation with him is, not to overuse the word surreal, but it's surreal.
Seth Abramovitch asked Wolff, "Fire and Fury all began with a cover story on Trump in this publication. Do you think he ever read that story? Because it wasn't very flattering."
"No, I don't think he read it," Wolff responded. "And one of the threads that runs through this book is that he doesn't read anything. People tell him what's in an article — that's what Hope Hicks does — and she probably told him it was great. It's easier if he thinks it's great."
Wolff's book has gotten criticism for sloppiness, and both the White House and the RNC have slammed Wolff in the past few days.
Wolff responded to the legal notice from the President's attorney by saying, "That's being handled by the publisher and I have absolute confidence that they will handle this and this will not impinge upon me in any way."
[image via screengrab]
— —
Follow Josh Feldman on Twitter: @feldmaniac
Have a tip we should know? tips@mediaite.com
Josh Feldman - Senior Editor