Michelle Fields, Ben Shapiro Out at Breitbart News Following Trump Rally Controversy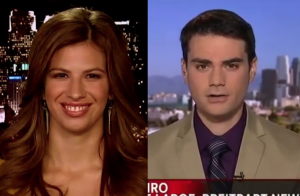 Two key figures in the Breitbart News world announced their departures Sunday night following a wave of controversy that has dogged the conservative media giant for the last several weeks.
Reporter Michelle Fields and editor-at-large Ben Shapiro told Buzzfeed News that they have resigned from their positions, which stem directly from an altercation at a Donald Trump rally in which Fields was allegedly roughed up by Trump campaign manager Corey Lewandowski. While video has surfaced of Lewandowski reaching for Fields just before the altercation, Breitbart published a story that called into question the veracity of what Fields claimed, furthered by reports that Chairman Stephen Bannon made several disparaging comments about Fields, as many at the company seemed to show an overall disinterest in defending Fields initially.
The news comes just two days after Kurt Bardella also ended his tenure with Brietbart as the company spokesman, telling CNN's Don Lemon, "there was a resistance from Breitbart to supporting Michelle."
In a statement, Fields said, "Today I informed the management at Breitbart News of my immediate resignation. I do not believe Breitbart News has adequately stood by me during the events of the past week and because of that I believe it is now best for us to part ways."
Shapiro blasted his former employer for spoiling the legacy of namesake Andrew Breitbart, who passed away suddenly in 2012. Shapiro said:
"Andrew's life mission has been betrayed. Indeed, Breitbart News, under the chairmanship of Steve Bannon, has put a stake through the heart of Andrew's legacy. In my opinion, Steve Bannon is a bully, and has sold out Andrew's mission in order to back another bully, Donald Trump; he has shaped the company into Trump's personal Pravda, to the extent that he abandoned and undercut his own reporter, Breitbart News' Michelle Fields, in order to protect Trump's bully campaign manager, Corey Lewandowski, who allegedly assaulted Michelle."
He continued, "This is disgusting. Andrew never would have stood for it. No news outlet would stand for it. Nobody should. This truly breaks my heart."
[h/t Buzzfeed]
Have a tip we should know? tips@mediaite.com