See Breitbart's Sarcastic, Promptly Deleted Response to Ben Shapiro's Resignation (UPDATED)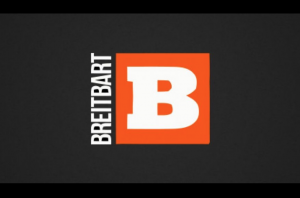 Oops.
In the early morning hours on Monday, Breitbart published a scathing takedown of their now-former editor-at-large Ben Shapiro after he announced his resignation from the conservative media company this weekend. The piece with the headline "BEN SHAPIRO BETRAYS LOYAL BREITBART READERS IN PURSUIT OF FOX NEWS CONTRIBUTORSHIP" has since been deleted; but of course, nothing on the internet ever really gets deleted, so you can read the sarcastic company reply here for yourself.
The lede reads, "Former Breitbart News editor-at-large Ben Shapiro announced Sunday evening via left-wing Buzzfeed that he is abandoning Andrew Breitbart's lifelong best friend, widow, hand-picked management team and friends in pursuit of an elusive contributorship at the Fox News Channel." First shot, fired.
The piece, written by William Bigelow, sarcastically continued, "It was business as usual for the ambitious conservative gadfly, who is known to live on the edge, courting and then leaving a series of companies over the past several years."
Breitbart then lobbed a few potshots at Buzzfeed directly, bitingly writing:
"Buzzfeed, a site that has been aiming to destroy Breitbart News since the moment Andrew Breitbart died, and which has predicted the demise of Breitbart.com for the past four years, rewarded Shapiro for his bravery by placing news of his resignation just beneath several other hot stories, including "This Wee Little Snake Taking Its First Breath Will Cure Anyone's Fears," and "2/26: How Two Llamas And A Dress Gave Us The Internet's Greatest Day."
The now-deleted post continued:
Breitbart California editor Joel B. Pollak, Shapiro's friend and fellow Orthodox Jew, expressed concern for his former colleague.

"I'm worried. I had enjoyed listening to Ben read Breitbart California stories, word for word, without attribution, on his morning radio show. Now what will he do for content?"

Breitbart News senior management issued a short statement: "Ben's listicles will be missed."

The mood was somber at Breitbart News' Los Angeles office, where one staffer stared silently at promotional copies of Shapiro's books, left behind on the shelves when the author stopped showing up for work, several years ago.
You can read the full original response from Breitbart here, archived through a webpage capture service. The following message is what pops up when you visit the URL for the original story, however: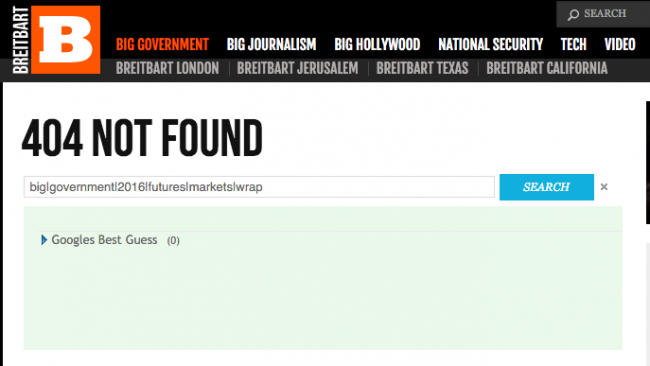 The Daily Caller's Matt Lewis managed the following screenshot of the original story as well before it was taken down:
Here's a screenshot of the original Breitbart story. pic.twitter.com/BxqWmiyGQL

— Matt Lewis (@mattklewis) March 14, 2016
On Sunday, Shapiro and Breitbart reporter Michelle Fields told Buzzfeed News that they resigned from their positions, which stem directly from an altercation at a Donald Trump rally in which Fields was allegedly roughed up by Trump campaign manager Corey Lewandowski. While video has surfaced of Lewandowski reaching for Fields just before the altercation, Breitbart published a story that called into question the veracity of what Fields claimed, furthered by reports that Breitbart Chairman Stephen Bannon made several disparaging comments about Fields, as many at the company seemed to show an overall disinterest in defending Fields initially.
UPDATE — 9:41 a.m. ET: Things just got weird.
POLITICO's Hadas Gold reports that the author name William Bigelow has been used in the past as a pseudonym for Shapiro's father David Shapiro for pieces he wrote for the site. So for those of you keeping score at home, the sarcastic and sensitive hit piece aimed at the former editor-at-large was written under the name usually associated with his own father. The younger Shapiro clarified Monday, "Breitbart put this under his byline because they knew I'd have to out him. The fact they would use my father's pseudonym in order to attack me just exposes how despicable they are."
David Shapiro also resigned Sunday.
Breitbart issued the following statement about the since-deleted piece:
Here's Breitbart stmt on that piece that was pulled, just came in: pic.twitter.com/ZIzbnGvy6a

— Hadas Gold (@Hadas_Gold) March 14, 2016
This is an opinion piece. The views expressed in this article are those of just the author.