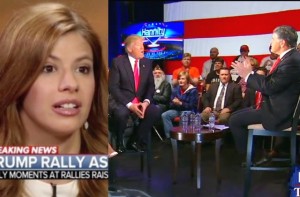 Donald Trump continued to insist tonight on Fox News that the whole Michelle Fields thing was completely overblown, and Fields fired back at him and his interviewer, Sean Hannity.
In yet another Hannity-Trump town hall, the Fox host asked Trump about Corey Lewandowski grabbing Fields and the ensuing fallout. Not once did he challenge Trump on the inconsistencies from his campaign or the fact that he and Lewandowski had denied anything happened at the outset, but he even backed up Trump with supportive words as the GOP frontrunner retold his account of what happened.
Trump claimed once again––a claim he suddenly started remembering recently––that Fields grabbed him, so maybe he should sue her. The audience went wild.
Well, Fields responded on Twitter:
Insane. @realDonaldTrump knows I didn't do this. Continues to lie and lie and lie. https://t.co/QfYN4bbKpP

— Michelle Fields (@MichelleFields) April 5, 2016
And she had some tough words for Hannity for not challenging him on any of it:
This whole situation is insane. So sad to see my "friend" @seanhannity not challenge Trump on his lies https://t.co/kLTxb8JIqg

— Michelle Fields (@MichelleFields) April 5, 2016
UPDATE –– 11:00 pm EST: Hannity responded:
Ok. @Michellefields I wrote u privately. I watched the tape 150 times. I do NOT see what u allege. Sorry I don't. https://t.co/MLVgeQRZSx

— Sean Hannity (@seanhannity) April 5, 2016
And Fields hit back:
@seanhannity you're not even going to challenge @realDonaldTrump when he so obviously lies and says I grabbed him?

— Michelle Fields (@MichelleFields) April 5, 2016
@seanhannity yes u wrote me privately & then brought it up on radio & tv last week that you wrote me privately. What's your point?

— Michelle Fields (@MichelleFields) April 5, 2016
Watch the clip above, via Fox News.
UPDATE — 8:53 A.M. EST: Hannity and Fields were not finished with each other last night, as their Twitter correspondence carried on into the morning.
My point is I didn't see you "jolted backwards"and "yanked down". And I did not see u "nearly fall to the ground" https://t.co/Fv6bdmu5cg

— Sean Hannity (@seanhannity) April 5, 2016
Alright @seanhannity. Ignore all the evidence. Congrats I'm sure this will earn you another town hall with Trump

— Michelle Fields (@MichelleFields) April 5, 2016
[image via screengrab]
— —
Follow Josh Feldman on Twitter: @feldmaniac
Have a tip we should know? tips@mediaite.com
Josh Feldman - Senior Editor