Mike Cernovich Reports Steve Bannon Has Started A Juice Regimen and Hired a Trainer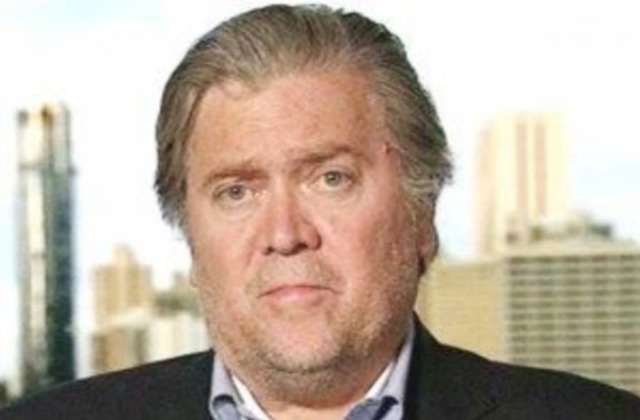 Blogger Mike Cernovich has published a recap of his week speaking with officials in Washington D.C., which he titled "Dispatches from Trumpland," and included an interesting tidbit about ousted White House strategist Steve Bannon:
For his part, Bannon is in great spirits, multiple people close to him have confirmed. "He was hated every day at the WH, now he's around people who like him."

"Steve has even started a green juice regime and hired a trainer," a Breitbart staffer said of Bannon's recent plans to rebalance his life.
Bannon was dumped from his role as White House senior strategist just eight months into President Donald Trump's administration, and returned to Breitbart News, the website he chaired before joining Trump's campaign, to embark on a loudly proclaimed warpath.
Now, it appears Bannon has realized you can't go to war against your enemies in the White House and win over Trump's affection without a rocking body. The president has a predilection for movie-star good looks, so Bannon's new regimen could be a bid to court Trump and draw his eye from the boyish good-looks of Jared Kushner or H.R. McMaster's hunky swagger.
Cernovich also quoted sources with explanations as to what led to Bannon's isolation in the White House and eventual ouster:
"Steve's big mistake was not bringing more people into the White House," a long-time Bannon confidant said of his recent departure. "He didn't understand the bureaucracy, you can't just have one or two idea people. You need buy in from dozens of people across theagencies," a deep state operative (yes some of them like me) said of Bannon's grand ambitions.

The unanimous consensus about Bannon was that he didn't realize, in the words of a long-time politico who has authored multiple NY Times best selling books on policy, "how dirty and mean this City is."
Cernovich — once a self-help guru — became a popular Twitter commentator during the 2016 election as a Trump-enthusiast and champion of the Pizzagate conspiracy. His journalistic practices don't always meet the standards of traditional media — so worth taking his reporting with a grain of rock salt — but in this White House he has proven to have surprisingly clued-up sources.
Elsewhere in the piece, Cernovich claimed officials described Trump's life under new chief of staff John Kelly as "house arrest" and that the former Marine Corps general once confiscated the presidents phone.
And lastly, of New York Times reporter Maggie Haberman:
"The White House press team calls Maggie when they want to know what Trump is thinking," someone with direct knowledge of the communications joke with me me, "because Trump talks to her every night." Multiple people insist Trump has regular phone calls with Haberman.
[image via screengrab]
—
Follow Aidan McLaughlin (@aidnmclaughlin) on Twitter
Have a tip we should know? tips@mediaite.com
Aidan McLaughlin - Editor in Chief