Military Investigating Photos Of Soldiers Posing Next To Suicide Bomber Corpses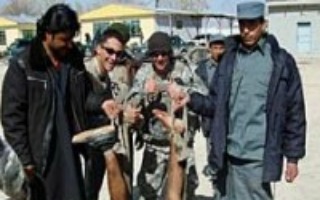 The Los Angeles Times obtained a series of photographs that depict U.S. soldiers posing with the corpses and remains of insurgent suicide bombers in Afghanistan. The publication of those photos raises questions about the United States's continued involvement in the South Asian nation, but also about the Times' decision to run those photos at a sensitive time in U.S.-Afghan relations ahead of their elections and the coming pullout of American military personnel and assets.
We've cropped the photo used at left, the full version of which shows troops posing with the shredded, bloody legs of a suicide bomber.
RELATED: Scarborough Rips Into GOP Candidates On Afghan War: I Thought Civilians Ran Military Under The Constitution
A U.S. soldier serving with the 82nd Airborne's 4th Brigade Combat Team based in Ft. Bragg released the photos to the paper "to draw attention to the safety risk of a breakdown in leadership and discipline," according to reporter David Zucchino.
Times editor Davan Maharaj explained the thought process behind publishing the photos:
After careful consideration, we decided that publishing a small but representative selection of the photos would fulfill our obligation to readers to report vigorously and impartially on all aspects of the American mission in Afghanistan, including the allegation that the images reflect a breakdown in unit discipline that was endangering U.S. troops.
"These images by no means represent the values or professionalism of the vast majority of U.S. troops serving in Afghanistan today," a Pentagon spokesman George Little told the Times.
The paper notes that the timing of this particular revelation could be damaging to the fragile security of the Afghan nation ahead of the pullout of U.S. troops in 2013-2014:
The photos have emerged at a particularly sensitive moment for U.S.-Afghan relations. In January, a video appeared on the Internet showing four U.S. Marines urinating on Afghan corpses. In February, the inadvertent burning of copies of the Koran at a U.S. base triggered riots that left 30 dead and led to the deaths of six Americans. In March, a U.S. Army sergeant went on a nighttime shooting rampage in two Afghan villages, killing 17.
U.S. military officials had asked the paper to refrain from publishing the pictures.
h/t LA Times
Have a tip we should know? [email protected]