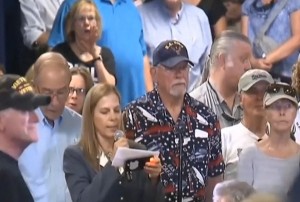 At a Mike Pence rally and town hall in Carson City Nevada on Monday, fans of Republican presidential nominee Donald Trump booed and heckled a woman who identified herself as a military mom when she confronted Pence about Trump's history of disparaging military families like that of the late Captain Humayun Khan. That woman, whose name is Catherine Byrne, appeared on Monday night's edition of The Last Word with Lawrence O'Donnell to speak out about her treatment by those Trump supporters.
Byrne began by telling O'Donnell that the entire room did, indeed, turn on her when she mentioned the Khan family, but also added that once she sat down, none of the attendees had the courage to say anything negative to her face. "I got more people coming up to me and saying thank you for my courage," Byrne said.
As for Pence's response, Mrs. Byrne praised the vice-presidential candidate for managing to show respect to her, individually:
I was very thankful to him that I thought that he was respectful to me as an individual. And I really thank him for that. But basically, that's about all I got, I really got out of that, I thought he was respectful to me.
Pence did, in fact, manage to avoid attacking or otherwise maligning the mother of a U.S. soldier for as many as two minutes, explaining that he and Mr. do "revere" military families and the service of soldiers like Captain Khan:

Pence went on to show that respect by intimating that our current soldiers, like Mrs. Byrne's son, are not properly trained:
Donald Trump will rebuild our military, and make sure our soldiers, sailors, airmen, Marines, and Coast Guard have the resources they need, the training that they need.
Neither Trump nor Pence has apologized for the attacks on Mr. Khan and his wife, and campaign surrogates continue to defend them.
This is an opinion piece. The views expressed in this article are those of just the author.