Million Student March Organizer Interview With Fox's Neil Cavuto Goes Off the Rails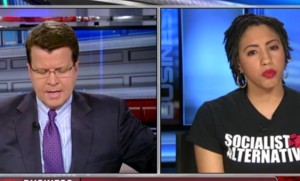 Fox Business Network's Neil Cavuto had Million Student March organizer and Bernie Sanders' supporter Darlette Scruggs on his show Thursday afternoon. And, things, well, just totally spiraled out of control. Scruggs is an advocate of free education for all, and debt forgiveness. Cavuto pressed her over and over again about how the United States is going to pay for all that she wants. There was a lot of interrupting between the two of them, but, you've got to hand it to Ms. Scruggs she had her facts ready to go. She hardly let Cavuto get a word in. "Capitalism has proven itself illegitimate," she said.
Watch the three-part interview below. The interactions start getting really heated in the third clip. (Pay special attention to Cavuto's facial expressions)
"Why do we prioritize war and nuclear weapons over education and justify students going into debt," she asked Cavuto. Cavuto pressed her on how high she would raise taxes on the one percent to pay for her plan, and whether the U.S. should start evaluating how we are spending the money instead of taxing.  They continue to cut each other off for the next several minutes. At one point, Scruggs accuses Cavuto of not answering her question.
"There is money there, if we can pull a trillion dollars to say oh, we need more nuclear weapons than obviously there is money lying around," Scruggs said, "The fact that I have to get on here and argue for education is asinine!"
Have a tip we should know? tips@mediaite.com