Minnesota Threatens Bowl Boycott After 10 Players Suspended in Connection With Alleged Sexual Assault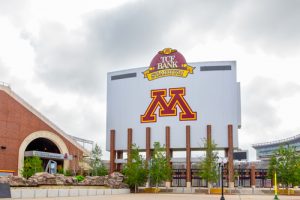 On Tuesday, 10 players were suspended from the University of Minnesota football team, in connection with an alleged sexual assault on Sept. 2. On Thursday, the rest of the team refused to practice, and they are now boycotting all football activities — including their Dec. 27  bowl game — because they believe the suspended players were not afforded due process.
The entire team, including the 10 suspended players, appeared at the Gophers practice facility as senior Drew Wolitarsky read from a letter announcing the details of the boycott.
"We're all in this together," Wolitarsky said. "What are they gonna do, pull 120 guys off the team? They won't have a team if that's the case."
The team's objection stems from the fact that a criminal probe into the alleged assault led to no charges being filed against any of the 10 players. Still, the school opted to suspend them from the team.
"We got no answers to our questions about why these kids were suspended when they were just found [innocent] by the law," Wolitarsky said. "(Athletic director Mark Coyle basically told us that he didn't have answers, and that led us to believe that this is kind of unjust."
University president Eric Kaler and Coyle issued a joint statement in which they said they were not permitted to give any more details about the case to the players, citing federal laws regarding student privacy.
"We want to continue an open dialogue with our players and will work to do that over the coming days," the statement said.
Head coach Tracy Claeys tweeted his support to the players on Thursday. (Note: This Twitter account is not verified, but several major outlets have confirmed this tweet's authenticity.)
Have never been more proud of our kids. I respect their rights & support their effort to make a better world! 〽️?

— GoldenGopherHFC (@GoldenGopherHFC) December 16, 2016
According to the Minneapolis Star Tribune, some of the 10 players were accused of being directly involved with the incident, while the role of others in the case is unclear. The university's office of Equal Opportunity and Affirmative Action recommended expulsion for five of the players, suspensions for four others, and probation for another.
The team is scheduled to travel to San Diego for the Holiday Bowl against Washington State on Dec. 23.
[image via Ken Wolter – Shutterstock.com]
–
Follow Joe DePaolo (@joe_depaolo) on Twitter
Have a tip we should know? tips@mediaite.com
Joe DePaolo - Senior Editor