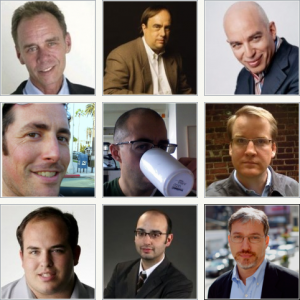 On Monday, finalists for the Mirror Awards — the Newhouse School's annual honoring of excellence in writing about journalism and the media — were announced, featuring some of the best writers and thinkers in our industry, particularly at a time when it is changing so rapidly. Some of the work honored is by familiar bylines: David Carr, Brian Stelter, James Poniewozik, Michael Calderone, Michael Wolff (but not, thank goodness, for his recent column speculating on Sandra Bullock's alternative film career), John Koblin — and our own Philip Bump. So we are proud.
We're especially proud because despite having a separate digital category, this year's Mirror Awards are quite dominated by the big names and big companies of traditional media, most with traditional budgets. Time, Vanity Fair, New York, the New Yorker, the New York Times, the Financial Times – not exactly scrappy newcomers. Politico is certainly new (and scrappy, as we well know) but little? Not exactly, especially with yesterday's laundry list of new hires! The New York Observer, while as beleaguered as any still-standing newspaper that I can think of, is hardly an upstart. As for CJR and NiemanLab, thinking about this stuff is their raison d'etre. So for a small staff at a new site, we're pretty psyched to be in there, especially for a piece like Philip's "Best Article – Digital" finalist, "Revisiting the New York Times' 2001 'Year in Ideas,'" which married meticulous attention to detail with big-picture analysis and is precisely the kind of above and beyond work that so deserves to be recognized with awards like this.
The work of the finalists is excellent. One of our writers was nominated. So why do you sense that there's a "but" coming?
Sigh. There is. Actually, two. They are both about what is absent from this list. The first, actual digital work in the digital categories. The second – oh, come on, you know it's coming! – is women.
Digital Work for a Digital Category
It's clear that there should be two separate categories here. The most obvious case in point for that is, in my estimation, Evan Osnos' "The Forbidden Zone" for the New Yorker. The kind of budget necessary to support a piece like this – filed from China – represents the very traditional media model of the Big Magazine Piece. Things are done very differently in work generated online. The style is different – links form a whole new language of punctuation, and punchlines – and the nature of the more daily/hourly/reactive online work leads to commentary on and analysis of specifics as they represent the whole, rather than the bigger-picture work that comes with longer lead time. So I have to say I was a little disappointed to see five finalists nominated for Best Commentary – Traditional and only three nominated for Best Commentary – Digital. You won't catch me dissing any of the five esteemed honorees on the traditional side – Michaels Kinsley and Wolff! Jameses Wolcott and Poniewozik! And David Carr! – but especially with so much more work migrating to the online side, the judges could really only muster three people for the digital category?
It is disclaimer time here, for in addition to nominating Philip Bump, one of my original columnists at Mediaite, I submitted on behalf of myself as well. So feel free to write this off as the sour grapes of the passed over. But my own work aside, I raise an eyebrow to the notion that no other online work thus submitted was worthy of the Mirror standard. I read media coverage all the time, and there is some killer stuff being done online, hammering away at the cracks that often underlie the big picture stuff (in this last year of Twitter suddenly exploding into the MSM consciousness, for example, a lot of great thinking was done about the implications, possibilities and effects, far ahead of the mainstream, no disrespect to Steven Johnson's nominated Time cover story). I don't know what else was or was not submitted, of course, but I'm going to apply the logic I used for the NYmag article on the New York tech scene: If your results-ratio seems wildly out of whack with what you know to actually exist, then maybe the wrong criteria is being applied. I'm not saying that every Tom, Dick and Harry online is a Michael Kinsley or a David Carr. But maybe to expect that kind of work from those kinds of columnists cuts out a whole swath of people doing high-quality, path-clearing work under an entirely different model. I asked Wendy Loughlin, Director of Communications & Media Relations for the Newhouse School, about the numbers, and she said there were 23 entries in traditional, 15 in digital. Maybe the leftover 12 who submitted in digital really didn't meet the standard of excellence established by Eric Alterman, Matthew Pressman and Craig Silverman – all terrific writers and thinkers. But maybe they did, just for a standard that wasn't being applied.
Where are the Women? And Why Must I Keep Writing That Sentence?
It's depressing to me that only 2 out of 24 Mirror finalists were women. It's more depressing that one of them was Nancy Jo Sales, who wrote about Jon & Kate Gosselin for Vanity Fair which automatically indicates the kind of ridiculous budget and access and time frame that is, let's just say, not the norm for most writers, and, to be fair, for most women writers (I draw your attention to the now-defunct but still-relevant "Women TK," which tracked the male:female ratio of bylines across 6 top magazines through June 2008, when the ratio was 3:1. Site founder Ruth Davis Konigsberg's commentary on the process, and noting what types of stories women were typically assigned, is worth reading). So absolutely nothing against Ms. Sales, who captured one hell of a media phenom, but surely you can see how a web-woman would find that wearying. Especially when she's written about this stuff so much already – about women in comedy, women in film, women in tech, women in politics, women in blogging, women at conferences, women in the anchor chair, women as depicted by the New York Observer. If you're tired of reading about this stuff from me, lemme tell you, I'm way ahead of you.
There is more too this, though: Women applied for this award in much lower numbers. Loughlin told me that of 177 entrants, only 38 were women. So how can I rail against low ratios of women without pointing a finger at all the amazing women in the industry who didn't apply? But how much of that is because low numbers are endemic to the industry in the first place? (Though according to Loughlin, over half the Mirror judges were female. And I was happy to see all the women on Politico's list of new hires, including superstars Maggie Haberman and Hillary Frey.) (Though I was less happy to see The Week's Opinion Award's all-male honorees.) (Though I was happy to see Kathleen Parker win a Pulitzer.) Has this been a confusing week? To quote one recent shining light of feminism: You betcha!
The two areas I highlighted above are not simple issues (nor does it address the issue of minorities in the industry – also a recurring issue). They are ongoing, reflecting evolution in the industry, and in thinking about the industry – and in who is doing that thinking, and how prominently. Me, I've been doing this for all of 5 years – on the one hand, it's sort of ludicrous for me to ever place myself next to someone like Michael Kinsley. On the other hand, my head spins from how much has changed over the past 5 years…and I bet I've written a lot more about it than Michael Kinsley. That's just me saying by way of self-example – wow, there sure are a lot of apples and oranges out there. How you juggle them is one thing; where they go in the fruit bowl is another. And, well, what can I say about this fruit bowl – it sure seems to have a lot of bananas.
These are just things to think about going forward – two more aspects of this changing, roiling industry to consider as we examine, assess and analyze it over the course of our monthly, weekly, daily and hourly columns. I'm sure there's plenty in here to debate and chew over, but one thing that is clear is that, whatever the criteria, whomever the entrants, and whatever the timing, the list of honorees for the 2010 Mirror Awards is impressive and all the work nothing short of stellar. They will be honored on June 10th at a luncheon hosted by Katie Couric (! Oh, hello, irony, lovely to see you!) and though I am many things – online writer, woman, person who won't shut up about this stuff – I am also an editor, and a friend, so no offense to the rest of you folks, but I am rooting for Mediaite columnist Philip Bump.
The list of finalists, and their nominated work, is below. Congratulations to all.
Best Single Article–Traditional Media
Best Single Article–Digital Media
Best Profile–Traditional Media
Best Profile–Digital Media
Best Commentary–Traditional Media
Best Commentary–Digital Media
Best In-depth Piece–Traditional Media
Have a tip we should know? tips@mediaite.com