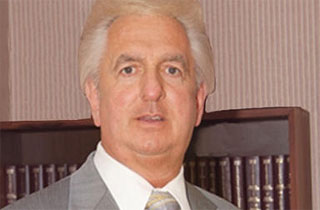 The Missouri Supreme Court today announced that they would replace the municipal court judge responsible for making racism happen in Ferguson, MO, and fermenting the environment that led to the protests surrounding Michael Brown's death.
The State Supreme Court will replace current judge Ronald Brockmeyer with Missouri Court of Appeals judge Roy Richter, in order "to help restore public trust and confidence in the Ferguson municipal court division."
"Judge Richter will bring a fresh, disinterested perspective to this court's practices and he is able and willing to implement needed reforms," Chief Justice Mary R. Russell said in a press statement.
Brockmeyer, Ferguson's former municipal judge, was singled out in a Department of Justice report detailing the city's lawkeeping practices. According to the report, Brockmeyer constantly pushed the city police to bring in more revenue by collecting more tickets, fines, and fees — which resulted in arbitrary arrests, allegations of illegal incarceration over small fines, and heightened tensions between police officers and the residents of Ferguson. As he did so, however, he quietly made his own traffic fines and parking tickets disappear, as well as those of his family, friends and associates. Reports indicate that Brockmeyer resigned on his own.
Riverfront Times editor Jessica Lussenhop noted that Brockmeyer will remain a prosecutor in Florissant, Vinita Park and Dellwood, as well as a municipal judge in nearby Breckenridge Hills.
Judge Richter starts on March 16th.
[h/t Jessica Lussenhop]
[Image via BrockmeyerLaw.com]
—
>> Follow Tina Nguyen (@Tina_Nguyen) on Twitter
Have a tip we should know? tips@mediaite.com