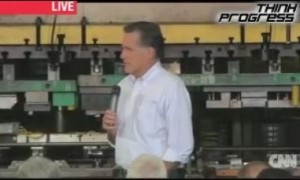 In yet another example of his inability to show some spine where the extreme elements of his supporters are concerned, presumptive Republican nominee Mitt Romney said nothing today when a supporter at an Ohio campaign event suggested that President Obama should be put on trial for his life. According to Buzzfeed's Zeke Miller, Romney completely glossed over a supporter who said "I do believe (President Obama) should be tried for treason."
From Buzzfeed's Zeke Miller:
EUCLID, Ohio — Former Massachusetts Gov. Mitt Romney didn't comment on a supporter's assertion that President Barack Obama should be tried for treason at a town hall event here.

A woman in the audience expressed dismay that Obama was "operating outside the Constitution," then said Obama should be tried for treason for violating separation of powers.

"I do believe he should be tried for treason," she said to applause from the audience.

Romney replied that "I happen to believe that the Constitution was not just brilliant, but that it was inspired, and so was the Declaration of Independence," avoiding the woman's comment.
Miller goes on to say that after the woman rattled off a list of concerns, Romney said he would look into some of them. Miller also points out the similarities between this incident, and the one from 2008, when Sen. John McCain actually did talk a supporter down from insisting that then-Sen. Obama was an untrustworthy "Arab."
ThinkProgress has the video, which shows a bit more distance between the "treason" declaration and Romney's response than Miller let on, but it was still an opportunity for Romney to stand for civility, one which he passed up:
In a crazy year for GOP politics, this isn't even the first "treason" kerfuffle. Those of us with long memories (by political media standards) recall that Texas Gov. Rick Perry called for Federal Reserve Chairman Ben Bernanke to face treason charges in August of last year.
Romney has taken well-deserved grief from critics on the left and the right over his inability to stand up to the likes of Rush Limbaugh, Ted Nugent, and American Family Association's Bryan Fischer, and now it seems as though he can't even bring himself to calm an average voter down.
The Washington Post's Philip Rucker exposed another peculiar tendency of Romney's, which is that he says "Of course!" about things that are not at all obvious. Rucker tweeted "Asked at ropeline whether he agrees with supporter who called for Obama to be tried for treason, Romney tells WP & NYT: 'No, of course not.'"
Have a tip we should know? tips@mediaite.com