Obama In 2004: Homosexuality Not A Choice, But 'I Don't Think Marriage Is A Civil Right'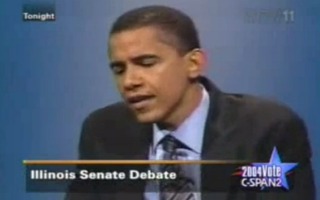 Recently, President Barack Obama's campaign has been more comfortable than usual in floating the possibility of putting same-sex marriage on the Democratic platform ahead of the November elections. Vice President Joe Biden and Education Sec. Arne Duncan have expressed support for gay marriage in the last 48 hours. But the President himself has wavered, saying that his views are "evolving" but he does not yet support same-sex marriage rights. Given that the President's "evolving" position has to evolve from somewhere, it is helpful to know when Obama's stated views on gay and lesbian marriage essentially stopped evolving. In a 2004 Illinois Senate debate with Alan Keyes, President Obama answered unequivocally that "no," homosexuality was not a choice and individuals are, for the most part, born gay or lesbian. Despite that view, he said, "I don't think marriage is a civil right" even if sexuality is a matter of one's DNA. President Obama has not broken substantially with those views even up to today.

RELATED: Obama Campaign Manager Has Combative Interview With Andrea Mitchell Over Gay Marriage
President Obama has been clear that his position on gay marriage has been "evolving" for some time. Evocative of a lung fish first breaking the surface of the murky, primordial sea waters of the Devonian period, Obama's views on gay marriage can be traced back to his days at Harvard University. However, the most famous instance of the President articulating his views before a national audience came in 2004 during a debate with Illinois Senate candidate Alan Keyes.
"We have an obligation to make sure that gays and lesbians have the rights of citizenship that afford them visitations to hospitals, that allow them to transfer property between partners, to make certain that they're not discriminated against on the job," Obama said. "I believe that this bundle of rights is absolutely critical."
When asked what in his religious faith informs these principles, Obama responded that his views are religious and do not necessarily have policy implications.
"What I believe in my faith is that a man and a woman when they get married are performing something before God," said Obama. "That doesn't mean that this translates into a position on public policy or with respect to civil unions. What it does mean is that we have a set of traditions in place that need to be preserved, but I also think that we have to make sure that gays and lesbians have the same set of basic rights that are in place."
When asked whether he believed "homosexuality was a choice," President Obama responded "no." He went further, saying "For the most part, it [homosexuality] is innate. I think that obviously it may vary in certain circumstances, but I think that it is something that is a part of their identity."
The moderator asked, if homosexuality is innate, why is gay marriage not a civil right? The moderator accused Obama of holding an opinion on the matter that amounted to a policy of "separate but equal."
"I think there are a whole host of things that are civil rights, and then there are other things – such as, traditional marriage – that express a community's concern and regard for a particular institution…"
When interrupted and pushed on the issue, Obama conceded, "I don't think marriage is a civil right." He said that gay people have rights that need to be enforced, but marriage was not among them.
The administration appears to have embraced a schizophrenic policy on the issue of marriage. Democrats see a wedge issue in gay marriage, given that the nation has rapidly moved to a side more congruent with the Democratic party's position on the issue – specifically, the support for some form of same sex marriage. However, given the administration's attempt to break ranks with its own members who support such a position, the Obama reelection team seems to have some genuine reservations about giving gay marriage a spot on the President's legislative platform.
On Sunday, Vice President Joe Biden broke ranks and expressed support for gay and lesbian couples exchanging vows (and was joined by Sec. Duncan on MSNBC on Monday). The press picked up on that change of position and hounded the Obama campaign for clarification.
David Axelrod, Obama's senior campaign strategist, told reporters, "I think [Biden's statement is] entirely consistent with the President's position, which is that couples who are married, whether they are gay or heterosexual couples, are entitled to the very same rights and very same liberties."
Deputy Campaign Manager Stephanie Cutter wrestled with Andrea Mitchell over the notion that Obama's views are anything but solidified on gay marriage. Mitchell identified that President Obama has no problem taking "a lot of money from gay supporters" and said that the Obama campaigns strategy regarding gay voters was to simply ignore them because "they have no other place to go." Cutter told Mitchell that she was not going to make news on her show by contradicting the President – unlike, say, the Vice President.
Obama has made clear that his view are not compatible with gay marriage – a reversal of this position would require a rather comprehensive "change of heart" story. It can be done, but while some seem to view Obama's reluctance to embrace gay marriage as simply a matter of political expediency, it does not seem to be often suggested that the views Obama expressed in 2004 may be his genuine beliefs.
Maybe, just maybe, what President Obama said in 2004 about gay marriage represent his actual opinions on the matter that is unlikely to change regardless of the political circumstances?
Watch the debate clip below (please note that the graphic overlay at 1:56 is part of the original YouTube video and does not represent the editorial opinion of this author or Mediaite):
Have a tip we should know? tips@mediaite.com