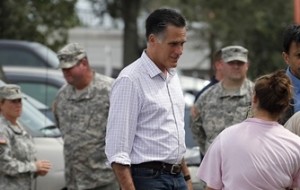 It was already a risky decision for Republican presidential candidate Mitt Romney to visit Hurricane Isaac-ravaged New Orleans immediately following the Hurricane Katrina anniversary-timed Republican National Convention, a risk exacerbated by conservative gloating that Romney had beaten President Obama to the "prize."
Already open to criticism that he was using the disaster as a political prop, Romney could hardly have asked for a worse headline than what he reportedly told one flooding victim.
When the White House's announcement that President Obama would visit New Orleans on Monday followed the Romney campaign's announcement by a few hours, conservatives were quick to childishly declare he was simply following Romney's lead, despite the fact that the President's trip had already been planned, and despite the fact that the President actually has a legitimate purpose for going to tour a disaster. While this delighted right-wingers, it could only seem crass, at best, to everyone else.
Still, Romney isn't responsible for what his stupidest supporters say, and could have as easily faced criticism had he decided not to go. When faced with one of the victims of the flood, however, Romney came up well short in the empathy department. From The Associated Press:
Romney and Louisiana Gov. Bobby Jindal (R) spent close to an hour meeting with first responders and local officials. Romney shook hands with National Guardsmen outside the U.S. Post Office and talked with a local resident, Jodie Chiarello, 42, who lost her home in Isaac's flooding.

"He just told me to, um, there's assistance out there," Chiarello said of her conversation with Romney. "He said, go home and call 211." That's a public service number offered in many states.

Chiarello said she will likely seek some other shelter because her home was submerged in the flooding.
In Romney's defense, at least he didn't offer her a quarter for the payphone.
For a candidate whom voters already don't think understands their struggles, who is on an already cynical-looking tour of a disaster area, and whose party has a famously bad record of helping people during natural disasters, this is not a great headline. You could say, in fairness to Romney, that at least he was trying to help, but when someone tells you their house just got submerged in a flood, telling them to go home isn't actually all that helpful.
Sure, Mitt Romney probably could have managed a more human moment, but the fact that he offered the only help he could, the phone number of someone else who could help, is a useful illustration of what he was doing there in the first place, what possible purpose he could serve there.
Have a tip we should know? [email protected]