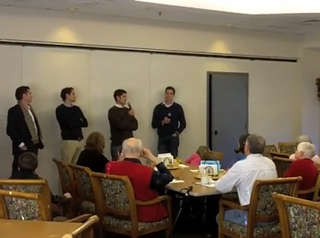 Move over, Huntsman girls, there's a new embarrassing presidential candidate child in town, and he's itching to steal the crown, apparently. While father Mitt Romney campaigns for next week's Iowa caucus, his son Matt and some of his brothers are stumping for him in New Hampshire. Asked about his father's tax returns, Matt tried to flip the issue around on President Obama by, er… demanding to see his birth certificate. Does he mean this one, by any chance?
RELATED: Here We Go Again: Donald Trump Tells Greta He Is 'Not A Major Believer' In Obama's Birth Certificate
The Hill has the story on the event, at which Matt Romney was joined by several brothers, one who immediately recognized the soundbite trainwreck happening before his eyes.
When asked whether his father would release his tax returns, which Mitt Romney has said he was unlikley [sic] to do despite a tradition of presidential nominees doing so, Matt Romney tried to make light of the question.

"He has not said that he will not do it, he has also not said that he will. I think it's a matter of time until that issue comes up because I think everybody has to get a chance to do that. And so I don't know the answer to that, I'm not sure if he knows the answer to that," Matt Romney said.

"But he'll do everything that he needs to. He's certainly not afraid of anything, not hiding anything — you know, I heard someone suggest the other day that as soon as President Obama releases his grades and birth certificate and sort of a long list of things, then maybe he'd do it."

Tagg Romney quickly interrupted his brother: "That was not my dad saying that."
RELATED: Rick Perry Flip-Flops On President Obama's Birth Certificate, Now Has 'No Doubt' He's A US Citizen
Tagg Romney then took control of the answer, and Matt Romney agreed with his comment that it was not his father who was suggesting that the President release his birth certificate. Whether that means the damage has or has not been done to Romney at this point is up in the air, and certainly what his sons say is not as damning as what, say, Rep. Michele Bachmann or Donald Trump were saying when the birther controversy was still a newsy entity with some mild political relevance. And Matt Romney did appear to be joking and not actually demanding to see the birth certificate, and with the addition of "grades" may have just been wracking his brain in real time for any corroborating examples to his joke and found the worst possible one. At the very least, however, it certainly doesn't look good for the Romney campaign at a time when the presumed frontrunner needs as streamlined and functioning campaign as possible.
The clip of Matt Romney's birth certificate comments below via CNN:
Have a tip we should know? tips@mediaite.com