Mo Brooks: Democrats Accusing Jeff Sessions of Racism Are Waging 'War on Whites'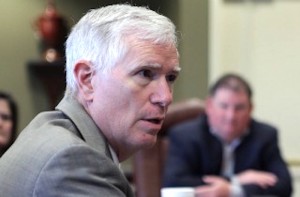 Congressman Mo Brooks (R-AL) thinks that the efforts to paint Donald Trump's attorney general nominee as racist are all part of the Democrats' "war on whites."
During a Wednesday radio interview on The Morning Show With Toni & Gary, Brooks was asked about the confirmation hearings that Senator Jeff Sessions has been going through this week. Brooks was specifically asked for his thoughts about Sessions' critics, who have expressed concerns about his track record on civil rights and past statements they find troubling.
"It's really about political power and racial division and what I've referred to on occasion as the 'war on whites,'" Brooks said. "It's all about political power, and the Democrats are not shy about lying in order to achieve their political goals."
Brooks went on to defend Sessions' voting record while also accusing Democrats of using accusations of racism as a political tool to gain power:
"They are trying to motivate the African-American vote to vote-bloc for Democrats by using every 'Republican is a racist' tool that they can envision. Even if they have to lie about it."
Many of Sessions' critics have noted how Sessions was previously denied a chance to become a federal judge due to concerns about his commitment to civil rights. Sessions addressed these concerns during his hearing, where he denied the accusations that he has sympathies for the Ku Klux Klan.
Incidentally, this isn't the first time Brooks has accused Democrats of a "war on whites."
Listen above, via WBHP 800.
[Image via Mo Brooks]
— —
>> Follow Ken Meyer (@KenMeyer91) on Twitter
Have a tip we should know? tips@mediaite.com