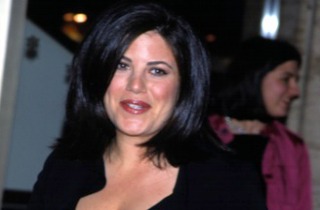 Only a select few people can truly speak from experience when weighing in on the celebrity nude photo hacking. Monica Lewinsky is one of them, and in her latest piece for Vanity Fair (in her role as a contributor), Lewinsky expresses her empathy for what these female celebrities went through.
Lewinsky first explains she had a brief scare with revealing photos purporting to be of her (they weren't), before writing, "I felt compassion for these young women. After all, I do know a little something about how the Internet can violate one's privacy."
She likened the release of the photos online to how her "girl talk" with Linda Tripp ended up on C-SPAN, and while the two aren't exactly comparable, Lewinsky considers both gross assaults on women in their most private moments:
I feel outrage—as a fellow victim, as a civilized individual, and as a woman—when other women are so easily and publicly violated. And I have found myself wondering: Have we become a world of pathetic voyeurs? Are we turning into scruffy old men in dirty raincoats slouched in the back row at the Gotham City theater?…

It is immaterial that the recently purloined photos revealed under-dressed celebrities. And, yet, being human we often find ourselves torn between our own right to privacy and our dissolute desires as voyeurs and gossips in an image-and trivia-fueled culture. How much we indulge our inquiring minds is an individual choice. But certainly we can agree that stolen private nudes of actresses (or of anyone, really) is crossing the double yellow line.
Lewinsky wonders where the line will be drawn, with cybercrime easier than ever and celebrities finding their privacy shrinking little by little every day. She muses, "It is not unreasonable to expect our legal system to protect us. We can draw an imaginary double yellow line in that road and prosecute the miscreants who cross it."
You can read the full piece here.
[h/t The Wrap]
[image via Shutterstock]
— —
Follow Josh Feldman on Twitter: @feldmaniac
Have a tip we should know? tips@mediaite.com
Josh Feldman - Senior Editor