Monmouth Poll Asked Which is the Biggest Threat to Your Way of Life: Hillary, Trump or ISIS?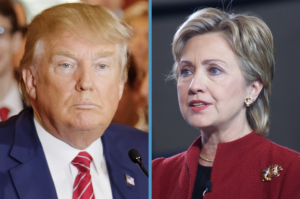 A great deal of Americans feel that their way of life is under attack, and a new Monmouth University poll is giving a look at what people think are the sources for the greatest amounts of anxiety the country witnesses today.
A poll of 803 registered voters earlier this month has concluded that most Americans feel that the country is facing increasing social divisions, that it is heading down the wrong track, and that the government has a negative impact on people. When the pollsters were asked which of 6 options made them feel the most threatened, the two answers that came back with highest numbers were radical Islamic terrorists and Donald Trump.
Sixty-one percent of those surveyed electorate said they feel personally threatened by Islamic extremists, while the Republican mogul candidate rang in at 54%. Approximately 43% of voters said they felt threatened by a Hillary Clinton presidency and by the policies of the Republican Party. The Democratic Party's policies came in fifth with a 39% threat perception level, and illegal Mexican immigrants trailed at 28%.
"We are seeing a mixed bag of results here," said Patrick Murray, director of the Monmouth University Polling Institute. "Voters claim they trust the American people to make political decisions, but it seems that may only apply if they actually agree with those decisions. And the conflict they see among their political leaders doesn't boost confidence."
The poll also indicated that independent voters are about even with their negative views about Trump and Clinton, giving their presidencies a respective threat rating of 50% and 51%. Even so, 18% of Republican voters indicated they they think Trump could be a threat, while 6% of Democrats say the same about Clinton.
Monmouth's most recent poll on the general election gives Clinton a 13% lead on Trump.
[Image via Wikimedia, Flickr]
— —
>> Follow Ken Meyer (@KenMeyer91) on Twitter
Have a tip we should know? tips@mediaite.com