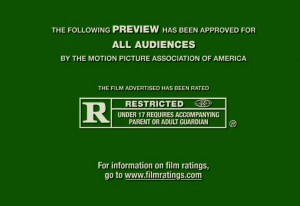 Earlier this year, the White House convened task forces on gun violence in the wake of the Newtown shootings last December, and included in the discussions was the entertainment industry and whether there is too much violence in the media. The Motion Picture Association of America clearly took that to heart, as it announced today that it will be updating its ratings system to provide parents with more information about why movies are given certain ratings.


RELATED: Why Hollywood Doesn't Need To Be Held Accountable For Media Violence
While the tragic events in Boston yesterday were not directly mentioned, there is some timeliness to the joint announcement from the MPAA and the National Association of Theater Owners. The heads of both groups announced how the new ratings system will affect the movie-going experience.
The new "Check the Box" campaign will highlight descriptions of why a movie received a certain rating. Also, there will be a tag attached to trailers explaining that the trailer is approved to play with the feature they came to see. The campaign also includes a new PSA as well as a new poster that will be displayed at theaters nationwide.
NATO president John Fithian specifically referenced Quentin Tarantino by name, explaining that there's a "disconnect between exhibitors and studios as to what works." MPAA head Chris Dodd touted the updated system in keeping with the MPAA's mission statement of informing parents and allowing them to make decisions about what films they can take their children to.
Both men were asked whether Hollywood makes too many violent, R-rated films. Dodd hedged, but Fithian adamantly said that "Americans have stated their choice" and Hollywood ought to be making more family-friendly movies.
—–
Follow Josh Feldman on Twitter: @feldmaniac
Have a tip we should know? [email protected]
Josh Feldman - Senior Editor