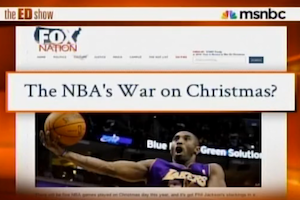 The closer we get to the big day, the increasingly inflamed tensions on both sides of the "War on Christmas" seems to grow– and yes, there are two sides. Earlier today on MSNBC's The Ed Show, fill-in host Cenk Uygur took his last call to tackle a slice of media surrealism entitled "The NBA's War on Christmas" on FoxNation.com, while failing to note that the piece was not Fox News fare, nor the opinion that of FNC, but of NBA coach Phil Jackson.
In what would typically be Ed Schultz's daily "Psycho Talk" segment, Uygur aired a montage of increasingly aggressive comments from the hosts of Fox & Friends regarding, among other topics, the removal of the word "Christmas" from several places and the substitution of the word "holiday" therein. Then he highlighted what he considered the height of Fox News' absurdity– an article entitled "The NBA's War on Christmas?"
The snippet suggested that the NBA, by hosting five games on Christmas Day, was being disrespectful to the Christian faith. Uygur then ripped into the headline itself, noting that this was neither the first nor likely the last Christmas on which the NBA hosts games and suggesting that Fox News would not be equally outraged about games on Hanukkah or Ramadan, adding cheekily that, given the LA Lakers' record with Christmas Day games, Kobe Bryant must be "the most sacrilegious man in America."
Strong argument had it not been completely misdirected. The article igniting Uygur's rage reads only the following on FoxNation.com:
"There will be five NBA games played on Christmas day this year, and it's got Phil Jackson's stockings in a bunch.

When Jackson, the son of a minister, was asked by reporters how he felt about coaching on a day when most Americans will be sipping on spiked cider, he made it clear he'd rather be getting his zen on."
It then directs the reader to the full article on our sister site, SportsGrid, which aggregated the article therein from ESPN. The article explains clearly that it is Jackson that is taking offense to the games on Christmas– or at least dismay– and mentions no Fox or News Corp. entities. Jackson commented that "It's like Christian holidays don't mean anything to them anymore… we just go out and play and entertain the TV. It's really weird."
The montage that introduced the segment, however, seemed pretty thoroughly researched, gathering up every mention of the phrase "War on Christmas" on Fox & Friends in what appears to be at least a few years. The problem, of course, is that the Fox morning team has little if anything to do with Fox Nation, which again has even less to do with the comments of an independent NBA coach. That is, of course, unless the Ed Show team is willing to make aggregated headlines fair game, in which case, why does Cenk Uygur so staunchly support Miley Cyrus?
The segment from this evening's Ed Show below:

Have a tip we should know? tips@mediaite.com