MSNBC Shells Out Big Bucks To Congratulate Rachel Maddow In Full Page NY Times Ad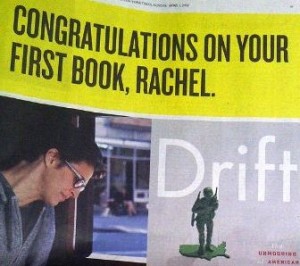 In case you haven't heard yet, Rachel Maddow has a new book out, called Drift. Well, MSNBC really wants you to know about it. So much so, they've taken out a full-page ad in the Sunday Review (formerly the Week in Review) section of today's New York Times to specifically congratulate its host. The ad quotes various praise for the book, not just from the network, but from journalists and authors who loved it as well.
RELATED: Fox's Roger Ailes Writes Blurb For Rachel Maddow Book: 'A Book Worth Reading'
Now, there are several striking things about this ad. First of all, I can't recall an instance before where MSNBC or any network for that matter has spent this kind of money to simply fete an anchor or host on an outside commercial project like a book. This comes on top of the fact that she promoted it on The Today Show, Meet the Press and of course on MSNBC.
Now there is nothing wrong with MSNBC celebrating its star anchor but this seems to demonstrate just how important her happiness is to the network. And happiness has its price. The cost of this full-page ad, which again, ran in full color in what is probably the most expensive section of the paper, was likely north of $100,000. The published rate for a full page black and white ad was about $142,000 in 2007 but since MSNBC advertises with the Times often they probably got "a deal." Which raises another question. Maddow must have known that this was coming and while she has every right to do anything and everything to promote her book (which even Roger Ailes liked) you have to wonder how this might come up when one of her hard working production assistants or associate producers ask for that raise that she/he totally deserves. While one could argue that this sort of argument could be made for all ads, this congratulatory full pager feels very different than an ad promoting her show.
As of this typing, her book is currently #8 on the Amazon best-seller list and #10 on the Barnes & Noble best-seller list. The ad reads "Congratulations On Your First Book Rachel." Maybe it should have referred to her more deferentially as "Ms. Maddow".
Take a look at the full-page ad below: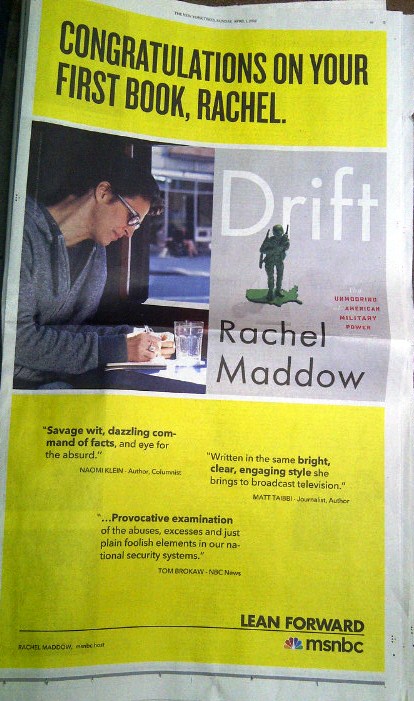 Have a tip we should know? tips@mediaite.com
Josh Feldman - Senior Editor