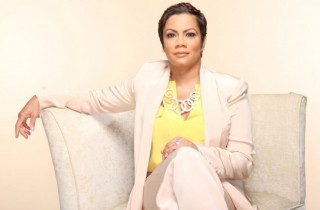 In the wake of the tragic murder of Kasandra Perkins at the hands of Kansas City Chiefs linebacker Jovan Belcher, who later killed himself, much of the conversation around this national news story has centered around handgun violence, mainly because of sportscaster Bob Costas' controversial commentary on the subject. MSNBC contributor Goldie Taylor is testing the theory that we can discuss two problems at the same time by sharing her own harrowing story of a domestic assault that ended in Taylor's gripping headline description: "I ran out, half-naked and bleeding. I tell my story because Kasi cannot tell hers."
While she has taken criticism and worse for it, Goldie has never shied away from sharing personal events that relate to the news, and has done so again in powerful fashion. At MSNBC.com, Goldie writes:
It started with a couple of dime store t-shirts.  It ended with me running half naked and bleeding from our apartment.
From there, she relates the events that led to her being stabbed, and miscarrying a child she didn't even know she was carrying. While disturbing, it deserves a thorough read, because no pull-quotes or commentary can really do it justice.
Goldie explains that while she doesn't "know what Kassandra 'Kasi' Perkins went through," or the answers to other questions about the tragedy, "What we do know is this. Every nine seconds, a woman is assaulted or beaten. We know that domestic violence is the leading cause of injury to women—more than car accidents, muggings and rapes combined.  Every day in the U.S. more than three women are murdered by their husbands or boyfriends."
Later in the piece, Goldie offered this stunning fact: "The number one cause of death for pregnant women is homicide. The perpetrator is almost always the child's father."
There are a number of studies to back this up, including this one, from the Georgia Health Sciences University, which found that "Among (pregnancy-related) homicides, 77.7 percent occurred during pregnancy and more than half the women were age 24 or younger and unmarried. Nearly half were black, even though black women accounted for less than 20 percent of the live births, and 45 percent were associated with violence from a current or former partner."
Goldie's commentary illustrates the deficiencies in the media's handling of this story, which, if you didn't know any better, is all about Bob Costas' job description as an NFL broadcaster. The issues of domestic assault and handgun violence deserve the attention that Costas' commentary is receiving, and the depth and maturity that coverage is lacking.
Read Goldie Taylor's entire column at MSNBC.com.
Have a tip we should know? tips@mediaite.com