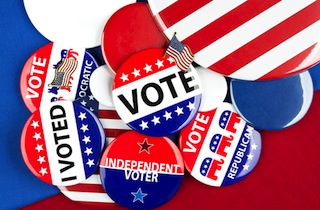 Every a.m., Mediaite publishes a primer of what the interweb machine is writing, talking, tweeting, and blogging about, so that you may fool friends and family into thinking you are a trove of information and insight. Today: how to fix the Democrats' turnout woes; why a 2014 GOP surge won't do Republicans much good in 2016; the decline and fall of Sarah Palin; and more.

"How the Democrats Can Avoid Going Down This November" (Sasha Isenberg, The New Republic)
Perfectly timed for the WaPo/ABC News poll this morning finding the enthusiasm gap alive and well, Sasha Issenberg has a breakdown of how voter patterns have changed over time and party, and how the Democrats can attempt to fix their midterm problem. Issenberg finds that it's not just a lack of intensity on the part of voters, but also among donors and field offices, who fail to make use of the consdierable election-year resources the party has on hand for contacting and motivating voters.
"The bad news for Democrats is that the imbalance could take a generation to work itself out naturally," Issenberg writes. "The good news is that, thanks to a newly nuanced understanding of the voting brain, they know exactly what it will take to fix it."
"House Republican Leaders Finally State The Obvious: Obamacare Isn't Going Anywhere" (Avik Roy, Forbes)
The structural problems for the GOP remain in presidential years, however:
"Most pundits are focused on the likelihood of Republican gains in 2014, fueled by an older, whiter electorate and the unpopularity of Obamacare. But the real prize is 2016. If Republicans can't retake the White House in 2016, conservatives will have little to no opportunity to shape the future of the health-care entitlement leviathan. And there's good reason to believe that Republicans have no shot to win in 2016."
"The End of Sarah Palin" (Michael Brendan Dougherty, The Week)
Sad trombone: "Recent events seem to confirm that she is an Obama-era novelty politician — and not much else."
Musical interlude:
"In Praise of Donald Sterling's 'Girlfriend from Hell'" (Lucia Graves, National Journal)
Amen: "While I hate to reward Trump's perennial trolling, his literal demonization of this woman is interesting because he's decrying something that should be starting to sound familiar: women who empower themselves and other victims of bigotry by elevating comments made to them in private. In doing so, these women make enemies, but more pressingly, they communicate disturbing realities about their private experiences."
"Baseball Set Precedent for Disciplining an Owner" (Richard Sandomir, New York Times)
Sterling sounds as if from a bygone era, but 1992 wasn't that bygone:
"Any punishment handed down to Donald Sterling, the Los Angeles Clippers' owner, will inevitably be compared with Major League Baseball's actions in the 1990s against Marge Schott…[who] made offensive comments about blacks and Jews and insisted afterward that she did not mean to hurt anyone. She owned a swastika armband, a gift, she said, from an employee who had taken it off a dead German during World War II; spoke compassionately of Adolf Hitler; and sometimes used a slur to refer to blacks. In 1992, baseball's executive council investigated her for using racial slurs toward employees and making anti-Semitic remarks."
[Image via screengrab]
——
>> Follow Evan McMurry (@evanmcmurry) on Twitter
Have a tip we should know? tips@mediaite.com