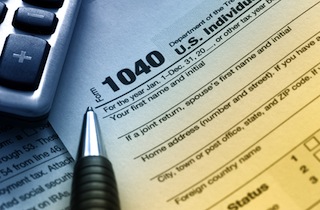 Every a.m., Mediaite publishes a primer of what the interweb machine is writing, talking, tweeting, and blogging about, so that you may fool friends and family into thinking you are a trove of information and insight. Today: happy tax day! Obamacare may already be affecting your taxes, though only if you've got enough to get the check; plus, the future partisan divide of immigrants makes life even tougher for the GOP, and whycome there aren't more Obamacare ads like Mark Begich's?

"What Obamacare Means for Your Taxes" (Sophie Novack and Sam Baker, National Journal)
Obamacare may have just raised your taxes. Before you go all Cliven Bundy, read Sam Baker and Sophie Novack:
The law's biggest tax provision—billions of dollars in tax credits to help people cover the cost of their premiums—is already in effect, but doesn't affect the taxes due on Tuesday. A handful of smaller provisions, mostly affecting wealthy households, will show up for the first time in this year's filing.

Among this year's changes: a 0.9 percent increase in Medicare taxes and a 3.8 percent surtax on investment income. Both are limited to high-income taxpayers, and both took effect for the first time in the tax season that just ended.
Baker and Novack also catch a potential issue for next year's deadline:
Tax-preparation services are helping their customers figure out where they stand and what their options are, but there's a wrinkle: The next open-enrollment window ends in February, well before most people file their taxes.

Uninsured people who file their taxes on the later end might not realize they owe a penalty until after the enrollment deadline—too late to sign up for coverage next year.
"TurboTax Maker Linked to 'Grassroots' Campaign Against Free, Simple Tax Filing" (Liz Day, ProPublica)
ProPublica follows the money on Intuit's astroturf campaign against return-free filing. Guess why they oppose it!
RT if you do your taxes like this:
"This Is a Fantastic Pro-Obamacare Ad — Why Aren't There a Thousand Like It?" (LOLGOP, Electablog)
John King asked this morning where the Democratic Super PACs were on the increasingly positive Obamacare numbers, and NYT's Jonathan Martin said only one pro-Obamacare ad was running in vulnerable races. That ad is for Senator Mark Begich (D-AK), and it's a good one. So the question both King and Electablog are asking still stands: why aren't there more of them?
"Study Finds More Immigrants Equals More Democrats — and More Losses for GOP" (Byron York, Washington Examiner)
Washington Examiner's Byron York flags a study from the Center for Immigration Studies that shows why immigration is such a rock and hard place for GOP:
A 2012 study of 2,900 foreign-born, naturalized immigrants cited in the report showed that about 62 percent identified themselves as Democrats, while 25 percent identified as Republicans, and 13 percent identified as independents. At this moment, according to the report, there are an estimated 8.7 million immigrants in the U.S. who are eligible for naturalization. Not all will become voting citizens, but somewhere between 50 percent and 60 percent will. And it's a sure bet that a majority will identify themselves as Democrats.

Gimpel cites several reasons why future immigration will likely mean more Democrats. The first is that "immigrants, particularly Hispanics and Asians, have policy preferences when it comes to the size and scope of government that are more closely aligned with progressives than with conservatives." Those preferences have expressed themselves in a two-to-one party identification advantage for Democrats in those groups.
Of course, countering immigration reform doesn't seem to be winning the GOP the Latino vote either.
"Rand Paul for President" (Bret Stephens, Wall Street Journal)
WSJ goes a-trollin':
What we need as the Republican nominee in 2016 is a man of more glaring disqualifications. Someone so nakedly unacceptable to the overwhelming majority of sane Americans that only the GOP could think of nominating him.

This man is Rand Paul, the junior senator from a state with eight electoral votes.
Stephens goes on to call him a conspiracy theorist who's a bit too close to secessionists. Get the popcorn.
[Image via screengrab]
——
>> Follow Evan McMurry (@evanmcmurry) on Twitter
Have a tip we should know? tips@mediaite.com