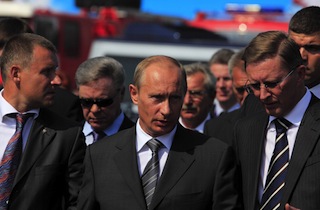 Every a.m., Mediaite publishes a primer of what the interweb machine is writing, talking, tweeting, and blogging about, so that you may fool friends and family into thinking you are a trove of information and insight. Today: an aggressive Putin seems to be getting his way in Ukraine, how Janet Yellen is looking out for the long-term unemployed, John Mellencamp v. Scott Walker Round 2, and more.

"Putin does not rule out sending Russian troops into Ukraine" (Chicago Tribune)
During an epic and occasionally bizarre Q&A session Thursday morning, Russian President and 2005 Super Bowl champion Vladimir Putin said he did not rule out sending Russian troops into eastern Ukraine, though he added that he "hoped" he would not have to do so. Putin also admitted that there had been Russian troops in Crimea prior to its widely-condemned vote to join Russia last month, a claim he had previously denied.
"Ukraine Prepared to Offer Autonomy to Eastern Regions if Russia Pulls Back Troops" (Karen de Young, Washington Post)
Pretty much what the headline says. It seems there's a good cop/bad cop thing going on in the diplomatic talks between Ukraine and Russia, with Ukraine offering the above solution in one of Putin's ears, and the U.S. warning of escalating sanctions in the other. For what it's worth, the U.S. doesn't place much faith in the semi-autonomy offer moving Putin.
"Janet Yellen Is Looking Out for the Long-Term Unemployed" (Danny Vinik, New Republic)
On the domestic side, TNR's Danny Vinik points to the continuing and worsening plight of the long-term unemployed, coverage of which has all but disappeared from major media outlets, and argues that new Federal Reserve Chair Janet Yellen is on their side:
She's basically saying that, as the recovery continues, employers will begin hiring the long-term unemployed. In a nutshell, she's saying the inflation hawks are wrong and that, until circumstances change, she's not inclined to follow their advice. That's important and, if you care about the long-term unemployed, a welcome sign. Congress doesn't seem interested in helping these people and the president doesn't seem able. But the Fed may be able to make a difference and Yellen isn't going to let that chance pass by.
Read the whole etc.
"Democrats Hagan, Nunn and Grimes Among Big Winners in Senate Campaign Fundraising" (Sean Sullivan, Washington Post)
Female Democratic candidates are outraising their GOP rivals, with totals topping $2 million:
In Kentucky, Grimes raised $2.7 million, besting Republican Senate Minority Leader Mitch McConnell. In Georgia, Nunn raised $2.4 million, lapping the field of Republicans there, several of whom put up lackluster numbers. Hagan raised $2.8 million, more than double the leading Republican candidate, state House Speaker Thom Tillis. In Louisiana, site of another key showdown, Democratic Sen. Mary Landrieu outpaced her leading Republican opponent, Rep. Bill Cassidy, by about $600,000.
Disclaimer: keeping the Senate in November is an uphill battle for Democrats, these figures and most others aside.
"Mellencamp Unhappy with Wisconsin Gov. Walker" (Scott Bauer, Associated Press)
Anti-union Wisconsin Governor Scott Walker continues to use John Mellencamp's songs at rallies, and Mellencamp continues to tell him to knock it off.
Optional musical accompaniment:
[Image via Degtyaryov Andrey / Shutterstock.com]
——
>> Follow Evan McMurry (@evanmcmurry) on Twitter
Have a tip we should know? tips@mediaite.com