My Fearless Predictions For 2013: Bye-Bye Boehner, Tebow-To-Go, Cutter In/Carney Out, And Other Prophecies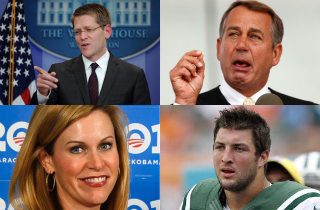 For better and worse, 2012 was one of the more eventful years in recent history.
Bad: Hurricane Sandy.
Good: U.S. dominance at the London Olympics (and somehow, no rain).
Bad: Newtown.
Good: The first two presidential debates and the VP debate (from an entertainment perspective).
Bad: Benghazi.
Good: Mayan miscalculation.
So what can we expect in 2013?
Here are a few educated guesses (and just plain random speculation):
Piers Morgan will not be deported back to the UK.
John Boehner is replaced as Speaker of the House by Paul Ryan.
Judd Apatow continues his fall from the top of the movie comedy food chain and makes another way-way-WAY-too-long movie obnoxiously starring his wife and kids. Title: This is 41.
The Jacksonville Jaguars trade for Tim Tebow, name him starting quarterback…and promptly go 2-14 again. Non-sports reporters don't care; only want to know if he's still a virgin.
Hillary Clinton is afflicted with an unfortunate bout of SARS and can't testify during next round of hearings on Benghazi. Makes full recovery, however, and announces intentions for the White House in 2016.
Lindsay Lohan is released from jail on good behavior.
Lindsay Lohan is arrested.
Lindsay Lohan is released… (networks finally get idea, stop covering story).
A law is mercifully introduced to ban use of the following terms: "It is what it is…" and "At the end of the day…"
Jeff Zucker moves Soledad O'Brien and Ann Curry into primetime CNN slots. Long-term effect on ratings not revealed until My Fearless Predictions for 2014 column.
A small deal is made to extend "fiscal cliff" to the following year. No entitlement reform, no tax reform, just another exercise in kicking the can down the road. Congress approval rating falls to Pi (3.14).
Notre Dame pulls shocking upset, wins National Championship over Alabama in 20-17 defensive struggle.
Bill O'Reilly continues Cal Ripken-like streak of not mentioning Sean Hannity's name, extending it to 2632 consecutive shows of not signing off by simply saying, "I'm Bill O'Reilly, thanks for watching. Hannity is next."
Recently departed Fox & Friends Weekend co-host Dave Briggs' spot is awarded to Juliet Huddy.
The Green Bay Packers, free of facing the Giants in the playoffs, beat the Denver Broncos in the Super Bowl, 31-30 (and dispose of the Seattle Seahawks along the way, fulfilling revenge for Fail Mary game aided by the replacement refs).
An assault weapons ban passes.
Shortly after announcing retirement from America's Got Talent, Howard Stern gets his own HBO 30-minute interview show. And it will be awesome.
Anchorman 2, like almost every other sequel that is released nine or more years after the original, will bomb with critics (but still make loads of dough in its opening weekend).
Hangover 3, like most unnecessary threequels, (Godfather III, Return of the Jedi, Superman III), will bomb with critics (but still make loads of dough in its opening weekend)… Oh yeah, Part II was horrible, too.
The geriatric Yankees miss the playoffs for only the second time in eighteen years.
Chris Christie decisively wins a second term as New Jersey Governor over Newark Mayor Cory Booker. First congratulatory call comes from the President…
Ben Affleck announces his intentions to run for Governor of Massachusetts (election in 2014).
Kim Kardashian marries Kanye West on national television before millions of adoring fans.
Kim Kardashian divorces Kanye West.
Kim Kardashian begins relationship with The Situation.
Facebook stock continues to fall, but rebounds after finally adding "dislike" option to compliment "like" option.
Twitter offers $1.00 option to allow 180-character tweets.
Jay Carney steps down as White House Press Secretary and is replaced by Stephanie Cutter.
CNN creates a roundtable opinion afternoon show. MSNBC's The Cycle cries foul, claiming they stole their stolen idea.
And Mediaite continues its march towards world domination…all thanks to loyal and passionate readers like you.
Happy New Year and see you in 2013!
— —
>> Follow Joe Concha (@ConchSports) on Twitter
Have a tip we should know? tips@mediaite.com