NATO Protesters Arrested For Attempting Molotov Bombing Of Obama HQ, Rahm Emanuel's House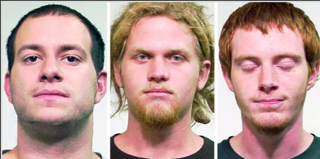 This weekend's NATO summit in Chicago has already attracted some unsavory behavior from protesters, as the AP reports today that three protesters have been arrested for conspiracy to commit acts of terror after police discovered a plan to make Molotov cocktails to throw into the Obama Campaign headquarters and Mayor Rahm Emanuel's house, an arrest their defense attorney called "propaganda to create a climate of fear."

RELATED: Fox & Friends Panel Explodes Over Pro-Occupy Wall Street Professor's Claim: 'These Are Playful People'
The AP reports the arrests were made Wednesday in a nighttime raid after police discovered a plot to attack a number of targets, including the aforementioned campaign headquarters and the Mayor's home. They report further that the defense is planning on arguing that the plot was actually a creation of undercover police officers, and not the men arrested:
Defense attorneys alleged that the arrests were an effort to scare the thousands of people expected to protest at the meeting of world leaders. They told a judge that undercover police were the ones who brought the Molotov cocktails.

"This is just propaganda to create a climate of fear," defense attorney Michael Duetsch said.

Later, outside the courtroom, Duetsch said two undercover police officers or informants who called themselves "Mo" and "Gloves" were also arrested during the Wednesday raid, and defense attorneys said they later lost track of the two.

"We believe this is all a setup and entrapment to the highest degree," Duets said.
The men have been identified as Brian Church, Jared Chase, and Brent Vincent Betterly— 20, 24, and 24 respectively.
The AP concludes that protests are expected to be much more prominent in Chicago tomorrow, though describes the city as "mostly quiet" today. The Chicago Sun-Times has photos and more information on their backgrounds– all three are not from Illinois- and Breitbart.com has obtained exclusive video depicting the protesters arrested at a recent rally, surrounded by a crowd insisting in profane terms they intended only peaceful protest while blocking a Chicago police station.
Have a tip we should know? tips@mediaite.com