Nebraska Mayor Flips Out at Atheist: 'Minorities Are Not Going to Run My City'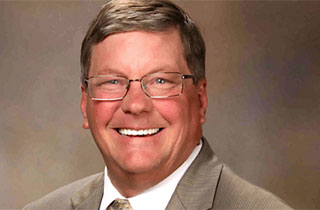 The mayor of a small Nebraska town is in big trouble after he freaked out at an atheist during a Memorial Day ceremony, made nasty comments about minorities in government, and basically destroyed the purpose of the Establishment Clause.
Some background, courtesy of the Daily Beast: the town of La Vista, NE holds a Memorial Day weekend-long celebration each year, both to commemorate American soldiers and to welcome the beginning of summer. To Robert Fuller, however, it seemed like a blatant, tax-funded display of religious propaganda (like, for instance, "Faith & Freedom Day), which Fuller, a board member of Omaha Atheists, wasn't cool with. (There's a little tension between the two.)
He approached Mayor Douglas Kindig during the celebration to set up a civil appointment to discuss church-state issues. And then it got ugly: "Take me to fucking court because I don't care," he said, according to Fuller. "Minorities are not going to run my city."
Fuller never even mentioned minorities in his conversation with Kindig (fun fact, La Vista is 89% white), and has no idea where that comment came from. Naturally, the Omaha Atheists are outraged, and want Kindig to explain his comments. (He hasn't yet.)
Technically, holding prayers at city-sponsored events isconstitutional, but the case that allowed for that blurring of church and state may not hold here. Explains the Beast:
In [Town of Greece, New York, v. Galloway,], the prayer was ruled to be constitutional because the town board graciously invited representatives from all of the town's congregations. Assuming that Kindig and the sponsoring Churches of La Vista also invited La Vista's (nonexistent) synagogues and mosques, the mayor may be in the clear. As for challenging a constituent to take him to court and asserting that minorities don't deserve a say in local government, however, Kindig—who did not answer phone calls, messages, or e-mails from The Daily Beast—may still be in for a world of hurt.
[The Daily Beast]
[Image via City of La Vista]
—
>> Follow Tina Nguyen (@Tina_Nguyen) on Twitter
Have a tip we should know? [email protected]