Netflix's Kimmy Schmidt Takes a Jab At Trump and Accuses Him Of Having Cosmetic Surgery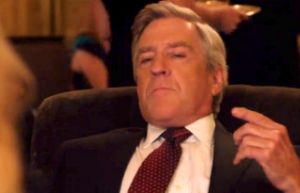 This weekend, when I wasn't working hard to bring you important stories about Barbara Walters going undercover as a Playboy Bunny, I was participating in the ritualistic practice of binging a Netflix show. Unbreakable Kimmy Schmidt was released late Thursday night and I was already four episodes deep by the time I sat down to do some Mediaite-ing Friday.
The lead-up to the release was big, but nothing prepared loyal fans for just how many on-the-nose jokes we were going to get about contemporary events. Tina Fey & Co. took aim at the never-ending saga surrounding the use of Native American imagery in professional sports. There was an entire episode dedicated the mob mentality of the Internet Outrage Machine, which was Fey doubling down on her resistance to PC comedy for the sake of appeasing online commenters.
Finally, one bit was a one-two punch of a joke. The above scene quietly kept momentum flowing for cosmetic surgery-related riffs following last year's hailstorm of criticism after a real-life surgeon killed himself after a Kimmy Schmidt character who appeared to be a caricature of him was introduced. It also dropped a new accusation on one Mr. Donald J. Trump, which is hard to do nowadays when rumors about the man are as abundant as his tweets.
Yeah, they insinuated that the Donald has had cosmetic surgery. No, they didn't insinuate it; they straight-up said it.
Interesting take. Trump has been known to take shots at others' appearances and his hair was a punchline long before he announced his presidential run, but this is the first joke I've heard about him having any major work done. Of all the election humor Fey and her writers could have pursued, this was definitely an interesting choice.
What do you think? Have you watched any Kimmy Schmidt yet?
[image via screengrab]
For more from Lindsey, follow her on Twitter.
Have a tip we should know? tips@mediaite.com