New Email Suggests Donna Brazile Had Exact Wording of Proposed Town Hall Question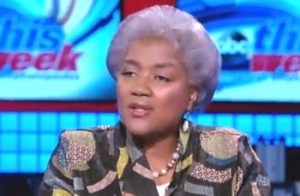 Yesterday we reported on an email obtained by WikiLeaks showing then-CNNer Donna Brazile apparently sending Team Clinton a heads-up on a CNN town hall question. Brazile denied ever sending candidate questions ahead of time, there were reports this may have just been Brazile sending over information about a TV panel she was going to appear on, and CNN said in a statement to Mediaite, "To be perfectly clear, we have never, ever given a town hall question to anyone beforehand."
Politico today obtained another email that they say was "word for word the language of a question that Brazile appeared to have sent to the Clinton campaign a day earlier."
The email in question was allegedly sent by TV One's Roland Martin, co-moderator of the March town hall. Martin sent some questions to CNN producers, including this:
DEATH PENALTY

19 states and the District of Columbia have banned the death penalty. 31 states, including Ohio, still have the death penalty. According to the National Coalition to Abolish the Death Penalty, since 1973, 156 people have been on death row and later set free. Since 1976, 1,414 people have been executed in the U.S. That's 11% of Americans who were sentenced to die, but later exonerated and freed. Should Ohio and the 30 other states join the current list and abolish the death penalty?
Not only is this the exact wording of what Brazile sent to the Clinton campaign, but Politico says both the spacing and capitalization are the same.
Martin spoke to Politico about his prep before the town hall:
In a follow up interview on Tuesday, Martin said that he did send his questions to CNN via his producer and his TV One team.

In a follow up email on Wednesday, upon being informed of the email POLITICO had obtained, Martin said he did not believe had had consulted with Brazile ahead of the town hall.

"As far as consultation, I don't believe I did. I know I asked all of my social media followers for their input on what they wanted me to ask. I did the same for the Hillary Clinton town hall we did in South Carolina in 2014. And I know that I called Rep. Clyburn to lock down language on his 10-20-30 amendment. That is an issue I've pushed for several years. I also know I called other members of Congress to ask them specific questions about their various bills and their status. All of that informed my questions. That's called research," Martin wrote.
[image via screengrab]
— —
Follow Josh Feldman on Twitter: @feldmaniac
Have a tip we should know? tips@mediaite.com
Josh Feldman - Senior Editor