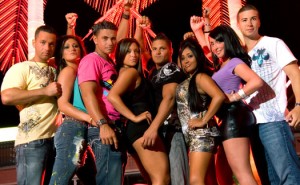 New Jersey is not happy with its portrayal on MTV's popular new reality show Jersey Shore, and its lawmakers are stepping up to take action.
Seriously, there are lawmakers in New Jersey who have the time to focus on this show. Here's their beef.
One area is the way the show portrays Italians, which has been a frequent complaint since Jersey Shore premiered earlier this month. The Associated Press reports that the New Jersey Italian American Legislative Caucus, led by caucus chairman Joseph Vitale, have sent a letter to Viacom requesting "that the show be immediately taken off the air."
The Star-Ledger reports on another aspect the state is taking issue with – the T-shirt shop where the guidos and guidettes of Jersey Shore "work." "Vitale (D-Middlesex) also wants the department to look into the tax status of The Shore Store, at which castmates have been shown working," writes Vicki Hyman.
Well listen, Sen. Joseph Vitale, Deputy Majority Leader of the New Jersey State Senate: just stop. Here's a spoiler alert – this show will not be canceled. It's a phenomenon and it's going to continue for as long as MTV keeps getting enormous ratings, which happen to be growing every week. The Situation and Snooki and Pauly D and the rest of the gang, who also, it should be noted, are not actually from New Jersey, are going to become more and more popular…until we get bored with them and they end up making appearances at your Jersey shore nightclubs. And here at Mediaite and elsewhere, we're going to write more and more about them. This isn't an indictment of New Jersey – it's about an MTV reality show. Why don't you turn the focus elsewhere.
Here's a clip of The Situation and Snooki on The Tonight Show earlier this month, doing good deeds (or, making up a nickname for Conan O'Brien):


—–
» Follow Steve Krakauer on Twitter
Have a tip we should know? tips@mediaite.com