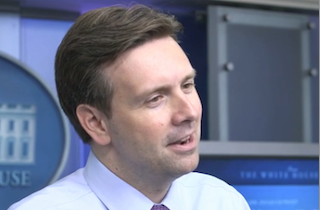 Today is Josh Earnest's first official day as White House press secretary, and now we know the answer to what will happen to the @PressSec Twitter account that his predecessor Jay Carney has operated for the last few years.
"I'm going to be handed the steering wheel to @PressSec," Earnest told POLITICO's Mike Allen Monday, though as of early Monday afternoon that transition had not yet taken place. He said he wasn't sure what would happen to his existing Twitter account, which has significantly fewer followers. "Maybe it'll just be mothballed for a little while until I get ready to leave," he said.
Earnest also shared his personal views on Twitter's role in politics and admitted he may need to step up his game a bit. "I have to admit that I am a pretty avid consumer of Twitter; I am probably not the most skilled contributor to Twitter in that I'm not a frequent Twitterer. I'm going to have to ramp up my activities."
Since joining Twitter in September 2011, Earnest has only posted 377 tweets, an average of just 12 tweets per month. He told Allen that when he first started working at the White House he had never even heard of the service. With 2,592 tweets since February 2010, which included one year of Robert Gibbs' tenure, @PressSec did only moderately better, averaging about 49 tweets per month.
But now, he said, his office is following the Twitter activity of the White House press corps, which includes prolific "Twitterers" like MSNBC's Chuck Todd (37.5K tweets since 2009) and Fox News' Ed Henry (20.2K tweets since 2010). "It's a good way for us to take the temperature of the White House press corps," he said, adding that it helps him know what questions to expect when he takes the podium for his (now) daily briefing.
As for Carney, he quietly moved over to @JayCarney on Friday, though he was unfortunately not able to take his more than 500,000 followers with him. He seems to have spent the weekend mostly retweeting messages from @WhiteHouse and @BarackObama to his measly 3,400 followers.
Watch video below, via POLITICO:
[Photo via screengrab]
— —
>> Follow Matt Wilstein (@TheMattWilstein) on Twitter
Have a tip we should know? tips@mediaite.com