New York Hospital Will Pay $2.2 Million to Family Over Dr. Oz Show Footage of Dying Relative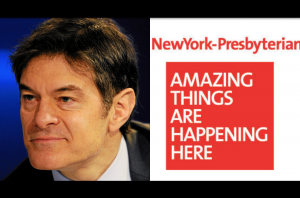 Anita Chenko was stunned last year when she turned on the television one night during a rough sleep months after her husband died. There on ABC on the Dr. Mehmet Oz show NY Med, Chenko saw footage of the man she was married to in the final moments of his life at New York Presbyterian Hospital, certainly airing without her consent.
Today it was ruled that the hospital along with the Department of Health & Human Services in New York will pay Chenko $2.2 million in a settlement with the federal government over an "egregious disclosure" of patient information.
The hospital was reportedly given "unfettered access to its healthcare facility," which included the heartbreaking final moments of Mark Chenko's life without the family's knowledge. Last year Anita Chenko told The New York Times, "And then I see, even with the blurred picture, you could tell it was him. You could hear his speech pattern. I hear my husband say, 'Does my wife know I'm here?'"
NY Med was an ABC show from 2012-2014 that starred television personality and medical professional Dr. Oz, centered on various hospitals in New York City.
Although the original lawsuit from Chenko and her children Pamela, 46, and Kenneth, 57, was dismissed, a unanimous vote this week by the New York Court of Appeals ruled that it could proceed. The Director for the Office for Civil Rights Jocelyn Samuels said in a statement, "This case sends an important message that OCR will not permit covered entities to compromise their patients' privacy by allowing news or television crews to film the patients without their authorization."
New York Presbyterian followed up in a statement, "The hospital continues to maintain that the filming of this documentary program did not violate the HIPAA Privacy Rule." But for Anita Chenko, much of the emotional damage is already done.
"I saw my husband die before my eyes," Chenko heartbreakingly said about seeing the situation on her television.
—
J.D. Durkin (@jiveDurkey) is a columnist at Mediaite.
[h/t The New York Post]
[image via screengrab]
Have a tip we should know? tips@mediaite.com