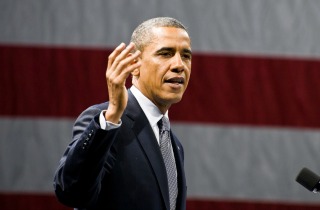 David Remnick, the New Yorker editor who in January so famously captured President Obama's comment about ISIS being "jayvee," has a review of the president's foreign policy record to date. His verdict: Meh.
Obama has fallen under fire in recent weeks from both Democrats and Republicans for sending mixed signals on how his administration plans to handle ISIS, an Islamic terrorist network that has claimed responsibility for the video recorded beheadings of two American journalists.
After six years in office, Obama broadcasts his world-weariness with wan gestures and pauses, with loose moments in the White House press room. The world has stubbornly denied him his ambition to transcend its cruelties, pivot smartly to the East, and "do some nation-building here at home." Obama's halting cool at the lectern now reads too often as weakness, and when he protests against the charges of weakness he can seem just tired. As the Middle East disintegrates and a vengeful cynic in the Kremlin invades his neighbor, Obama has offered no full and clarifying foreign-policy vision.
Remnick says in his review, however, that Obama has had some success abroad, such as the recent targeted airstrike of the leader of a Somali-based terrorist group.
"It is a mistake," writes Remnick, "as well, to dismiss caution as weakness, to react to the medieval executions and depredations of ISIS and the adventurism of Vladimir Putin by mocking the very idea of strategic calculation."
[Photo via Shutterstock]
— —
>> Follow Eddie Scarry (@eScarry) on Twitter
Have a tip we should know? tips@mediaite.com