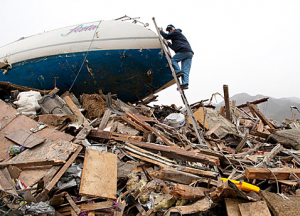 The huge resources required to cover the disaster in Japan, uprisings in Egypt and war in Libya have drained budgets at American news networks, according to an analysis by TheWrap. "We've already had a year's worth of breaking news coverage, and it's not even the end of March," David Verdi, NBC News VP of worldwide newsgathering, told TheWrap.
Brent Lang and Dylan Stableford ran the numbers, adding up all the airfare to shuttle correspondents around the world, plus the costs of keeping them on scene and the satellite costs of getting their stories on television, and concluded a continued big news year could be a problem:

NBC spent $1.5 million on its first day covering the Japanese tsunami, according to one knowledgeable individual. That's roughly the total amount it spent reporting on earthquake ravaged Haiti over a period of several months.

But that's hardly the only international disaster crying out for coverage.

In the Middle East, networks are spending on the level of $2 million to cover each fresh political upheaval, according to an individual with knowledge of those budgets.

"The first day of a catastrophe the costs spike — you have to fly your crew and your anchors in, and broadcasting equipment. That's a million-dollar hit right there," Verdi told TheWrap.
TheWrap's story has a cool graphic of various news coverage and burning dollars–but note to TheWrap's graphics team: ABC's Charlie Gibson retired about a year ago, and was replaced in the World News anchor chair by Diane Sawyer.
Have a tip we should know? tips@mediaite.com